FIA warns drivers about corner-cutting during Korean Grand Prix
| | |
| --- | --- |
| By Jonathan Noble | Sunday, October 16th 2011, 03:12 GMT |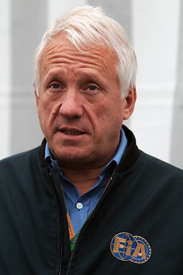 Formula 1 drivers have been warned that they will be reported to the stewards if they cut the track betweens Turn 4 and 6 of the Yeongam track in Sunday afternoon's Korean Grand Prix.
Following Sebastian Vettel's decision to take the short cut as he returned to the pits after his first qualifying lap, FIA race director Charlie Whiting was asked to provide an official notice to teams and drivers about the situation for the race itself.
In a note that he sent on Sunday morning, Whiting wrote: "You are reminded that any driver who uses the link road between turns 4 and 6 during the race will be reported to the stewards for failing to use the track.
"If it appears that the driver has gained an advantage of any sort from using this road, a penalty is likely to be imposed."
Drivers have also been warned that they will not be able to use DRS on the back straight if they happen to run wide at Turn 1.
"As any driver using the run-off area at turn 1 during the race is likely to miss the timing loop at SC2, we would like to point out that as this is also the DRS detection point, any chance of being able to use the DRS on the following straight would be lost," he added.
Vettel escaped without punishment for cutting the track because the stewards deemed that he gained no advantage from it.