Change to 107 per cent rule unlikely despite 110 per cent proposal
| | |
| --- | --- |
| By Jonathan Noble | Friday, October 14th 2011, 05:46 GMT |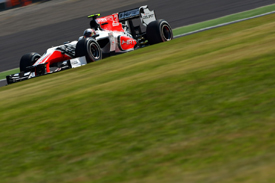 Formula 1 teams have discussed the idea of increasing the sport's qualifying limit to 110 per cent for next season, but the move appears unlikely to find any support.
At a meeting of F1's Sporting Working Group in Korea on Thursday, one of the ideas that was talked about was an opening up of the current 107 per cent limit.
Such a move would help the outfits at the back of the grid avoid the risk of being sent home from races next year if a team like Red Bull Racing makes a big step forward in form.
However, despite the concept being debated by teams and FIA race director Charlie Whiting, the idea of changing the 107 per cent rule did not garner much support and is almost certain to be dropped.
HRT team principal Colin Kolles, whose outfit was keen for a discussion about the 110 per cent idea, told AUTOSPORT: "It is an idea that has been discussed many times, but we are happy to keep the current limit at 107 per cent. We have no problems with it."
The return of the 107 per cent rule this year has only caught out HRT once - when neither Vitantonio Liuzzi nor Narain Karthikeyan qualified for the season-opening Australian Grand Prix after a difficult run through practice.
Since then, every team has been allowed to start races after regularly completing laps within the cut-off point, even on occasions when their actual Q1 times have been outside the 107 per cent margin.