Barrichello: Lewis Hamilton must ignore his critics
| | |
| --- | --- |
| By Jonathan Noble | Friday, October 14th 2011, 03:25 GMT |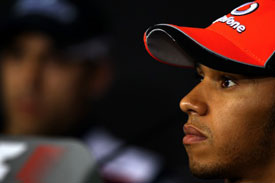 Lewis Hamilton should ignore the critics and stick with his beliefs and the support of those close to him to get himself back on form.
That is the view of Formula 1 veteran Rubens Barrichello, who reckons that Hamilton holds within himself everything he needs to regain his confidence and rediscover the speed that made him a world champion.
When asked by AUTOSPORT about the kind of situation that Hamilton has found himself in, Barrichello said: "It is important the day that you understand you can only depend upon yourself. What others say doesn't matter.
"You need to be 100% right on your thoughts and you can put it out of your head. Opinions are there and criticism is there, and you just have to deal with it and stop reading, and stop learning what others think.
"The most important thing is to have a good heart, to be a good human being and perform the way that your family raised you. The rest: you are going to have bad times and good times."
Barrichello believes that Hamilton's current difficulties have been made more of because he is a high-profile driver - which has further exacerbated the situation.
"I never had that because I always came back to my original answer: Lewis is in the limelight a bit, so people say so many things, and when so many things are said you start to believe that they are right. But I am on the outside - he is the one who has to believe."
Hamilton admitted ahead of the Korean GP that he needed to do a better job, but reckoned he has all the support around him that he required.
"I have been with the team since I was 13-year-old. I think I have quite a unique relationship with the team and regardless of how tough a year it has been or how many problems we have had, I stay very close to their hearts and I think the same with me," he said. "They continue to support me and it is great to see that when they are having tough times us as drivers, me and Jenson, are able to lift them and vice versa."