Schumacher more concerned with progress than beating team-mate Nico Rosberg
| | |
| --- | --- |
| By Jonathan Noble | Friday, October 14th 2011, 00:34 GMT |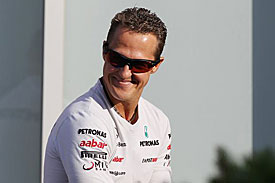 Michael Schumacher says the most important thing for him this year is that Mercedes GP starts delivering progress on track, rather than ending the campaign ahead of his team-mate Nico Rosberg.
A recent run of good form has lifted Schumacher to within three points of Rosberg in the drivers' standings, with much interest now being stirred up on whether or not the veteran can get himself in front of his young team-mate.
Speaking ahead of the Korean GP however, Schumacher said that beating Rosberg would only matter to him if they were right at the front of the field.
"To me that is not what matters," he said. "I think we have spoken about this some time before, whether I am placed in front or behind him, that is not what matters. To me it matters that as a team we are going in the right direction, that we get the car that we need to really fight for front positions, and then it will matter where I am against him."
Schumacher believes that his recent run of form, which has seen him score 28 points in the last three races, is simply the result of him and his team finally being able to deliver its maximum potential.
"I guess in the end it is a combination of many things," he said, when asked about the reasons for his recent progress. "The point is that we are able to achieve more often to get 100% out of the car. That has not always been the case and, it has been very clearly noticeable for about three or four races, that we are pretty consistent this way."
Schumacher also reiterated his belief that recent staffing appointments at Mercedes GP will help lift the team forward in its quest for victory.
"I came here to succeed together with Mercedes and on the way there, after the first one and a half years, it was obvious that we needed to raise our game," he explained. "Despite the fact that we have fantastic engineers and great guys, we just need capacity and that is what has arrived with two guys that won.
"Aldo I know from the past working together with in the Ferrari days, and Geoff I've heard that he has been involved in the team in the past. So they are two men with a lot of experience who should help for the future."
And although Schumacher recently led an F1 race for the first time since he came back to F1, after heading Jenson Button for a few laps at Suzuka, he says he does not view that as a proper achievement yet.
"You know what, I didn't even know that until after the race," he said. "I wasn't following my pit board as I knew positions roughly, and who I had to fight, and I was not aware of that in the race.
"I was told after the race, and it is a nice side effect. You all know why - everybody goes to the pits and I happened to be out there and lead the race. So I don't count those laps as real leading laps."