Toro Rosso aiming to run modified exhaust blown diffuser in Korea
| | |
| --- | --- |
| By Edd Straw | Thursday, October 13th 2011, 09:08 GMT |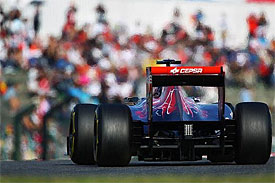 Scuderia Toro Rosso is hoping to be able to run the modified exhaust blown diffuser package that it tried and then abandoned during Friday practice at Suzuka in this weekend's Korean Grand Prix.
High temperatures caused the new exhaust exits to break after several laps at Suzuka, forcing the Italian team to ditch its package even though there were no problems with overheating of the floor itself.
Before the exhaust problem manifested itself, the package was reckoned to have delivered a performance improvement.
The team has worked to correct the problem since Suzuka and will try the package again tomorrow.
"We only had a few days to try to sort them out but we have tried to do something," said Sebastien Buemi when asked by AUTOSPORT about the possibility of using the package.
"We are not sure if it is going to be enough, but we will definitely try them on Friday morning and see if the reliability is good or not.
"On Friday morning in Japan, it seemed to bring what was expected, but the only thing was that the exit part of the exhaust broke, so we couldn't do more than three or four laps."
Although Buemi does not believe that being able to run the exhausts is key for the Toro Rosso's chances of scoring points, he thinks that any small gain can make a big difference in the tight midfield pack.
Toro Rosso is currently eighth in the constructors' championship, but is only 11 points behind seventh-placed Sauber and Buemi believes that his strong performance in the Japanese Grand Prix before his wheel fell off thanks to a cross-threaded wheelnut is proof that even without the upgrade the car is competitive.
"If we can improve your car by just a little bit then maybe we can get the edge over the other guys in the big group. Renault is the start of this group with Force India, Williams, Sauber and Toro Rosso in it. If you are at the head of that, you will be between eighth and tenth.
"We believe that we would have ended the race at Suzuka in eighth or ninth place, maybe just in front of Sergio Perez. That is the first place after the big teams.
"We were quite competitive until we lost a wheel."