Fernando Alonso says he is out to 'enjoy' final four races of the season
| | |
| --- | --- |
| By Jonathan Noble and Pablo Elizalde | Thursday, October 13th 2011, 08:22 GMT |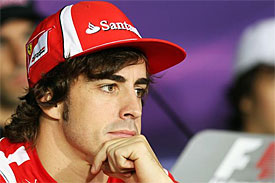 Fernando Alonso says he is not too interested in finishing runner-up in this year's championship, and claims he will try to enjoy racing as much as possible in the final events of the year.
The Ferrari driver is currently in third place in the standings, having dropped behind McLaren's Jenson Button, who is now eight points ahead with four races to go.
Although Alonso had said earlier this month that the runner-up spot was valuable to him, he said in Korea on Thursday that he feels no pressure to finish second and that it will not make a big difference to him.
The Spaniard also admitted it will be hard for him to win a race in the remaining part of the season, even if that is his main goal.
"I will try to win one race if possible, but we know that it is going to be difficult," said Alonso. "Red Bull will remain favourites for the remaining races and McLaren is strong in this part of the championship so we know it will be difficult.
"We will try to enjoy racing, with no pressure about the championship position because I think finishing second or fifth in drivers' championship is not a big difference.
"Once you cannot be champion there is no big interest and in the constructors' championship, which is more important, McLaren is a long way ahead of us.
"We need to do the maximum but it's difficult to catch them. We will try to enjoy racing. When you can be aggressive at at the start, enjoy Sundays, maximise the potential of the car, and we know if we do that then the podium is very possible and if there is one opportunity to win one remaining GP we will try to take it."
Alonso also said he was very happy with his team-mate Felipe Massa, following comments from team boss Stefano Domenicali that the double champion would welcome Sebastian Vettel at Ferrari in the future.
"I am extremely happy with the team-mate I have alongside me," said Alonso. "Now I am happy with Felipe, we have a strong team at the moment.
"Different drivers with different styles and we can help each other, with the way of driving and the way of approaching the weekend, so I've been constantly learning from Felipe in these two years.
"In the future nobody knows. I have a long-term contract with Ferrari. In the next five or six years I don't know if we will keep going with Felipe or if there will be a change, and if someone else is coming we will work as close as we work with him and try and help Ferrari win as many races as possible, so it will be good."