Recovered Paul di Resta eyes strong Korean Grand Prix
| | |
| --- | --- |
| By Jonathan Noble and Pablo Elizalde | Thursday, October 13th 2011, 05:46 GMT |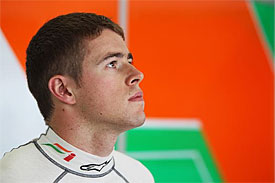 A recovered Paul di Resta is determined to help Force India maintain its sixth place in the standings in this weekend's Korean Grand Prix.
The Force India driver had to battle a high fever during last weekend's race in Japan, where his team failed to score for the first time in the last six events.
Di Resta says he is now feeling better.
"I wasn't too bad by Sunday in Suzuka, obviously on the mend. Having three days off has been quite good. I am not fully there, but I am definitely feeling a lot more lively than I did back at Suzuka," said di Resta in Korea on Thursday.
The Scot said it was hard to tell if his illness affected his performance at Suzuka.
"I suppose you don't know that. At the time I felt I was driving the car as hard as I could, I think we were on for a reasonably positive finish until the safety car.
"It affected our strategy quite a bit because we made a big impact in the beginning and that was our plan from Saturday and from the simulations of what we had to do, to keep other guys behind."
Force India is not bringing any new parts for this weekend's race, but di Resta believes the team failed to optimise the package in Japan and is aiming to take a step forward in Korea.
"We have come here with the same package. It was the same in Suzuka as it was in Singapore. Maybe didn't get the optimum out of it in Suzuka, which we can try to achieve here, but it is obviously going to be different temperatures, different tyre compounds again.
"I think it is relatively open in terms of us battling with Sauber and Renault and it can quite easily change, it is how well you get yourself prepared on Friday.
"At the end of the day we qualified 11th and 12th, and there was a Mercedes not there. We finished 11th and 12th and as I said, our optimum strategy was what we went on, and I think out of luck some other teams got there and closed the gap. But we were very close to scoring points as a team, but we didn't.
"That is the kind of thing you have to accept. We came off the back of scoring two races with points, so it can change - and I have always said it is tight, it is not easy, and it will be a fight all the way to maintain position in the constructors' championship."
Di Resta said his team may introduce some updates for the next race in India.
"The guys are not standing still in the factory. I believe there may be something small for India. We haven't been told yet but it is not going to be anything that will make a huge difference, but India will be a big race for us, and it is important that we try and get a strong result there."