Karthikeyan: Friday role vital for Indian Grand Prix racing return
| | |
| --- | --- |
| By Jonathan Noble | Thursday, October 13th 2011, 04:58 GMT |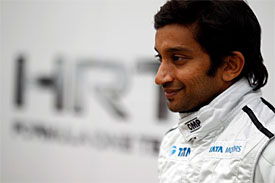 Narain Karthikeyan believes his practice runs for HRT since the Singapore Grand Prix have been vital for getting him in shape for his Formula 1 return at the Indian Grand Prix.
After being replaced by Daniel Ricciardo from the British GP, Karthikeyan has been slotted in for a one-off race outing at his home event in Delhi in a fortnight's time.
And, with high temperatures expected at India's inaugural event, Karthikeyan says the biggest benefit from taking part in P1 sessions for HRT is in getting him physically prepared.
"I really felt it in Suzuka," said Karthikeyan in Korea about the value of his P1 runs. "Singapore was all stop and go and it was easy. But Suzuka with the fast flowing corners, you feel it much more.
"You saw my sector times compared to Ricciardo, they were okay. The first sector was faster, but you feel the body, the neck and your lower back - you feel it. It doesn't matter how long you train in the gym, because I have been training a lot, but when you get into the car it is like: wow! It was like I had been away from it for a long time.
"So it is very important. India is not Suzuka by any means, but still driving here will help a great deal."
He added: "Speed doesn't go away like that. It is just the physical aspects of driving an F1 car: you can't just jump into and get quick. You can be on it for a lap, but to be on it for 20 laps is a different matter."
With Delhi currently experiencing temperatures in the mid-30 degrees Celsius, Karthikeyan thinks it is vital he completes as many laps as possible in practice in Korea.
"I am just trying to do loads of laps, more for the physical aspects of things. I cannot train any harder – that is about it. It should be okay. It is surprisingly hot in Delhi, the day before it was 37-degrees – so it is very, very hot right now."