Diesel-powered LMP1 cars will be restricted for the inaugural FIA World Endurance Championship
| | |
| --- | --- |
| | Tuesday, October 11th 2011, 09:23 GMT |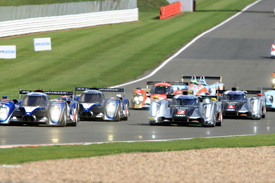 Diesel-powered LMP1 cars will have their performance pegged back by around seven per cent ahead of next year's inaugural FIA World Endurance Championship.
Following this year's the instalment of the Le Mans 24 Hours, organising club the Automobile Club de l'Ouest and the FIA carried out a wide-ranging study of car performances at both Le Mans and the Spa-Francorchamps 1000km.
The ACO had already granted petrol-powered LMP1 cars a number of performance tweaks ahead of Le Mans in a bid to equalise performance, allowing them to shed 10kg and increase the size of their air restrictors.
In a bid to further improve parity plans have now been announced to restrict diesel performance by reducing the diameter of their air restrictors - by 16mm for single restrictor engines and 11mm for double - and reducing supercharger pressure by 200 milibars.
In addition, the capacity of diesel fuel tanks will be reduced by five litres, from 65 to 60.
The ACO and FIA also announced plans to improve safety following several heavy crashes in this year's Le Mans.
Changes include making the shark fin design mandatory on all LMP1, LMP2 and FLM cars, and making openings above the front and rear wheels. With the exception of LMP1s rearview mirrors will be increased in size and also have a night mode, while the rear camera system will be made mandatory for GTE cars and available for all others.
ACO sports manager Vincent Beaumensil said that the performance changes were aimed not at matching cars over a single lap but over the duration of a race.
"Our main objective was not to put everybody on an equal footing in terms of performance lap times," he explained, "but to define the true potential of each of the competing technologies."
Full sporting regulations for next year's inaugural FIA World Endurance Championship will be released in November, but the ACO and FIA confirmed that points will be awarded on a similar basis to Formula 1 – with the exception of Le Mans, where the points will be doubled.
One point will also be awarded for pole position in each class.