How Vettel's 2011 campaign ranks in Formula 1 history
| | |
| --- | --- |
| | Monday, October 10th 2011, 18:06 GMT |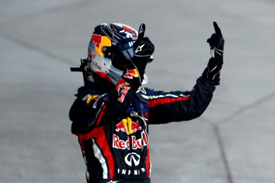 Sebastian Vettel's 2011 title campaign is the third best in the history of Formula 1, according to the Castrol EDGE Rankings.
Vettel amassed 25,395 points this season, taking nine wins, 12 pole positions and 14 podiums to leave the rest of the field reeling.
Using the complex algorithm which powers the Rankings, every season in F1 history was crunched to find out how that campaign compared to others at the exact same stage - with Vettel emerging in third in the all-time list.
That puts him above Jim Clark's runaway success in 1963, Jackie Stewart's domination in 1969 and even Michael Schumacher's fifth world crown in 2002.
Indeed so strong has Vettel been this year that he could have laid claim to the greatest campaign in the history of Formula 1 had he claimed a dominant victory at Suzuka, a bid that was derailed by both Jenson Button and Fernando Alonso.
In taking his brilliant victory Button gained one place and moved to fifth in the Rankings, his highest position all season.
His team-mate Lewis Hamilton also benefited as he moved into third, with Fernando Alonso – whom Button had held at bay in the closing stages – dropping one place to fourth.
Alonso lost ground despite taking a podium as a result of the rollover system in which he was forced to drop his score from Korea in 2010, where he took a clean sweep of race victory, pole position and fastest lap.
With Mark Webber losing ground slightly, there is now a four-way fight for second in both the Rankings and the 2011 championship – one that Vettel can now watch in comfort having secured back-to-back crowns in both disciplines.
To see who beats Sebastian Vettel in top five greatest title campaigns in history, and to see the full Rankings, visit www.castroldriverrankings.com.