Sebastian Vettel can get even better in 2012, says team boss Christian Horner
| | |
| --- | --- |
| By Jonathan Noble | Monday, October 10th 2011, 07:24 GMT |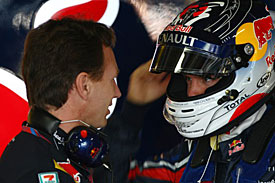 Sebastian Vettel still has the capacity to improve his driving heading in to next year, despite having been the class of the field throughout his title-winning 2011 campaign.
That is the view of his Red Bull Racing boss Christian Horner, who reckons that Vettel will not rest on his laurels after becoming the youngest ever double world champion.
Vettel capped his brilliant season in the Japanese Grand Prix by delivering a third place finish that put him out of reach in the points' standings of race-winner Jenson Button.
And although his results this year have been almost perfect, Horner says Vettel will still look to see where he can improve.
"It will be hard for him to better what he has achieved so far this year, but knowing Sebastian he is never satisfied and he will always be looking to improve," said Horner, whose team is still chasing the constructors' championship title. "And that is what makes him such a strong driver."
Horner says that the team will regain its focus for this weekend's Korean Grand Prix as it bids to clinch the constructors' championship, where it currently stands 130 points ahead of McLaren. Once that is wrapped up, it well then set its sights on records like most wins and most pole positions in a season.
"I think the main target now is to close out the constructors' championship, but of course there are a few records that are potentially available, particularly to Sebastian," he said. "But I am sure that while his main focus will be to help the team win the constructors', I am sure he has got half an eye on maybe matching some of those records."
Red Bull Racing's rivals have all been pushing hard with their 2012 cars in recent weeks to try and ensure they start next year in the best possible shape - and Horner said that the outfit would not take anything for granted in its ambitions to keep itself at the top of F1.
"We have had a phenomenal 2011, we have had a phenomenal 2010, we had a great 2009 and the team has worked phenomenally well as a group of people, and as a team," he said. "The effort that has gone into this weekend with components coming out late: it demonstrates the passion and effort and desire that burns within the team.
"But you would be foolish to underestimate our competitors and rivals, and of course unlike in previous years the regulations are fixed. There are common tyre suppliers and much more stringent regulations in certain areas, so to have achieved the level of performance that we have is quite exceptional, and one that we will be looking to try and maintain not only into next year but obviously throughout the close of next year as well."
He added: "Obviously everything we do this year we learn and benefit from for next year. So until the chequered flag drops in Brazil there will be no change to our approach.
"The priority is to get Mark up there as well, we want to see him take the runners' up position and finish the season on a real high, and whatever we learn and take out of this year will apply to next year's car."
Horner also suggested that the team would be bringing 2012 development parts to races over the remainder of the campaign.
"It is the only opportunity track-testing wise that we have really before RB8 is born, so of course we will look to optimise all the track time left that we have this year," he said.