Andreas Mikkelsen confident of keeping lead in Scotland as Juho Hanninen closes
| | |
| --- | --- |
| By David Evans and Matt Beer | Sunday, October 9th 2011, 11:55 GMT |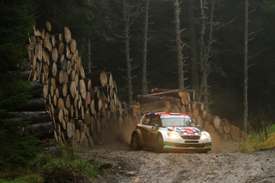 Andreas Mikkelsen remains relaxed about his chances of hanging on to the Rally of Scotland lead through the final four stages this afternoon.
Juho Hanninen closed to within 28 seconds of Mikkelsen by winning SS11, where the Skoda UK driver had a puncture.
"It was 10 kilometres from the end and I couldn't remember hitting anything," said Mikkelsen.
"There were rocks everywhere. It didn't go straight down, it went down slowly. It was costing me time."
Mikkelsen is sure that he still has enough speed in hand to stay clear of Hanninen with just two normal stages and two runs through the short Scone Palace test to go.
"It should be okay and we don't need to do anything silly," said Mikkelsen. "I'm not going to change the way I'm driving. I'm reasonably confident, as confident as you can be in this sort of position."
Works Skoda driver and 2010 Scotland winner Hanninen said he would push on the first stage after service then take stock of how the battle was developing.
"I will push a little bit harder than this morning, but you can push a little bit in the first one out of service then see where we are going into the long one," said the reigning Intercontinental Rally Challenge champion.
"I'm ready to give a big push in the long one if it looks possible. It's certainly looking a lot better than this morning."
Both drivers agreed that the overnight rain had made the stages a real challenge today.
"The grip level changes constantly," said Hanninen. "Every time I think I can read the road, the next corner catches me out. So it's not easy to push to the maximum here."