Vettel says he pushed for victory without thinking of championship
| | |
| --- | --- |
| By Simon Strang and Pablo Elizalde | Sunday, October 9th 2011, 09:55 GMT |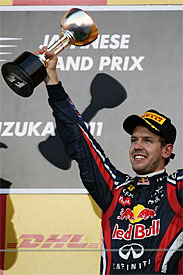 Sebastian Vettel said he was driving as hard as possible to try and win the Japanese Grand Prix, without thinking too much about the championship.
The German driver needed just one point to secure his second crown, but Vettel said after the race that he was "as hungry as ever" and trying to win the race without the championship in mind.
In the end the Red Bull driver had to settle ford third position behind Jenson Button and Fernando Alonso.
Vettel claimed he was pushing very hard in order to try to have a shot at victory.
"To be honest I wasn't thinking about the championship at all and I tried to get close to Fernando," said Vettel. "I lost connection a little bit after the backmarker we had to pass, I think one of the Virgins, which obviously was hard to get back again because I was benefiting from the tow and from the DRS.
"And especially when I saw we were closing in on Jenson, I thought this is going to be fun, these last four laps, the victory is in sight again.
"So I was as hungry as I ever have been and going for victory, throwing the car around and trying everything to get close to the guys again.
"I would have loved the race to continue a little bit longer but that's why it was a bit shocking when I crossed the line; that's it, full of adrenaline, charged to get back to them and then all of a sudden, chequered flag.
"Then it was time to realise that we had won the championship and we can take a little bit of time, which I think we will have tonight together."
Vettel, Formula 1's youngest ever double champion, believes it was crucial to stay focused all the time despite his huge advantage in the championship.
And the 24-year-old admitted he will need time for the feeling to sink in.
"Obviously a lot of people have been quite confident on that but I think one of the important things was that we didn't allow ourselves to drift away on it too much," he added. "Everything we did this year, everything we achieved, we achieved as a team. It's not just us on the track it's the guys in the factory pushing very hard as well.
"Every single one from the post office, to the design office, to the engineering office to hear on the track - it's incredible. It's hard to imagine that we've built two cars, we've got two drivers and we carry in a way all that weight on our shoulders when we are on track.
"Sometimes when we are on the track we don't always treat the cars as good as we should, but obviously we try to get every single bit out of them.
"We set ourselves the target to win the championship this year, to achieve it by Japan already with more races to go is difficult to put in words. It will take time, it's as confusing as the first one. I'm sure we have a little bit more time tonight within the team and the rest of the season."
Vettel conceded having seven-time champion Michael Schumacher on track with him as he became a double champion made it all more special for him.
"I tell you what I never imagined that I would win my second world championship and Michael [Schumacher] drives past me doing this (makes a gesture with his hand). That's really weird because when I was a little boy he was already Formula 1 world champion.
"So that imagination was far out of sight. It's those small things that make it really, really special. I have a lot of good memories back then and today. I feel in a way quite fortunate and blessed to be able to experience all that.
"We had so many fans today, I saw so many excited people during the drivers' parade, to see the grandstands were full. That's really one of the last thoughts that I have before I put my helmet on.
"Life for me and I think all the drivers doesn't get much better than this. Sunny days, a lot fans, everyone excited to see what you do. I think that is what life is about. To wrap up the championship here, which has been the ultimate target this year, is difficult to put in words. It's more than fantastic."