Vettel makes history with second Formula 1 title
| | |
| --- | --- |
| By Jonathan Noble | Sunday, October 9th 2011, 07:44 GMT |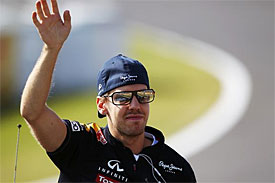 Sebastian Vettel has won the 2011 Formula 1 world drivers' championship after finishing third behind Jenson Button and Fernando Alonso in the Japanese Grand Prix.
The Red Bull Racing driver needed just one point in Suzuka to guarantee himself the crown, and achieve the landmark of becoming the youngest double world champion in F1 history.
Unable to fend off the quicker McLaren of Button at Suzuka, Vettel eventually settled for third as he decided to take no risks in his late-race fight with Alonso.
Button was the only man who could have stopped Vettel taking the world championship, but to achieve that feat he needed to win all of the remaining five races of the campaign with his German rival not finishing in the points.
Speaking before the race, Button paid tribute to Vettel's achievements this year - and said that even though Red Bull Racing's car had been dominant, the driver had still played a vital role in the outcome of the battle.
"He has really proven himself this year," said Button. "I think last year he had some great drives but he was pretty inconsistent and had more incidents than I expected him to have, considering he won the world championship.
"But this year, he has been exceptional this year. He is doing a great job, and you don't win a championship without a great car. But he is doing what is asked of him from the team.
"He is driving very well. I haven't really spent that much time racing wheel-to-wheel this year, and I don't think many people have. The only real time was in Hungary, maybe once or twice before, but this year he seems a lot calmer.
"My memory goes back to Spa last year when we had our little incident. But since then he has been driving very well and, to finish every race on the podium except for one, is very impressive. You cannot do it without a great car, but he has done exactly the job he was asked to do."