Toro Rosso admits it misjudged Japanese Grand Prix qualifying
| | |
| --- | --- |
| By Matt Beer | Saturday, October 8th 2011, 06:51 GMT |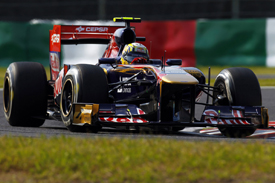 Toro Rosso says it deliberately prioritised its race plans over qualifying at Suzuka - but still had regrets over its handling of the session after seeing its cars consigned to the eighth row of the Japanese Grand Prix grid.
Although Sebastien Buemi and Jaime Alguersuari had shown promising speed in practice, they will start only 15th and 16th. Alguersuari went into qualifying intending to be conservative and save tyres for the race, but Buemi had hoped to do better had he not made a mistake on his first run.
"I got a super lap in Q1, but I cannot be happy with Q2, because I made a mistake on the exit of Turn 9, hitting the kerb a bit too hard which sent me off into the grass, costing me around half a second," he said.
"I am disappointed about that because I've ended up behind the Williams, when we could easily have been ahead of them.
"They don't give out any points for qualifying, so we took the decision to save tyres for the race and we will see if that was the right choice tomorrow. Tyre degradation is quite heavy, which means that having new tyres will be important in the race."
Toro Rosso's technical chief Giorgio Ascanelli rued not sending Buemi out again - and also admitted that the team had been forced to remove some development parts which had been critical to its Friday speed.
"We looked good in Friday's FP1, but then we had to back-pedal on performance as we had concerns over reliability with some of the new elements we were running here," he said.
"But today, we did not get it right and it was not a good performance, neither in how we engineered the session, nor in our capacity to produce a good lap time.
"With hindsight, possibly we should have given Sebastien another set of tyres and sent him out again at the end of Q2. There would not have been much point doing that with Jaime because he had too much understeer and we could not fix it, which was not quite the same picture we had seen this morning. Actually, this should work in his favour for the race, because according to our numbers, the rear tyres will be very difficult to manage tomorrow, which explains the amount of understeer Jaime had this afternoon. Sebastien was happier with the car, but he made a mistake on track.
"As usual, I tried to privilege the race rather than qualifying, which is why we did not send him out again and inevitably, some people moved ahead of us."
Having come through from lowly grid positions to score points on five occasions so far this year, Alguersuari said he had no concerns about being 16th.
"We could have had a much better qualifying in performance terms, but we had concentrated on the race in terms of our set-up and aero balance," he said.
"Therefore, even if the grid position is not so good, I am quite happy because I feel that tomorrow I will have a car strong enough to score some points. I could have gone quicker this afternoon, but we decided to save tyres as well as run with a race set-up. I expect we can see a situation similar to Valencia and Monza, being very quick in the race.
"We have tried to focus a lot on the race in terms of getting consistency from the tyres, even if that was going to penalise us this afternoon."