Danica Patrick says her team choices will be key to her NASCAR transition
| | |
| --- | --- |
| By Diego Mejia | Saturday, October 8th 2011, 02:16 GMT |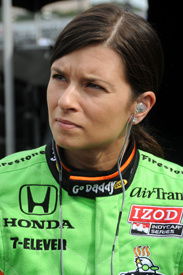 Danica Patrick hopes being supported by top and established teams while moving to NASCAR will allow her to succeed in her transition.
The IndyCar star will be competing full-time in the Nationwide Series next season while running a number of Sprint Cup races in what will be the third year of a gradual entry into stock car racing.
Patrick is the latest open-wheel driver to make the move into the NASCAR ranks, following recent attempts from former IndyCar colleagues Sam Hornish Jr and Dario Franchitti.
While Hornish continues to race sporadically after losing his full-time Cup drive at Penske Racing at the end of last year, Franchitti could not complete his debut season in Cup with Chip Ganassi Racing, being hampered by an injury sustained during a Nationwide race at Talladega. The Scotsman then returned to IndyCar and is currently in the running for a fourth title, which would be his first in a row since his return to the series.
Despite her IndyCar peers' past experiences, Patrick believes her chance to tie up with top NASCAR teams can make the difference for her. JR Motorsports, her current team in Nationwide, is among the leaders in the second-tier series and is co-owned by Rick Hendrick, while she will be driving for Tony Stewart's Stewart-Haas Racing in selected Cup outings in 2012.
"The support that I have makes a big difference," Patrick said. "It makes a big difference when you have people looking after you and from the very beginning, at the end of the [2010 Daytona] ARCA race to hear Mr [Rick] Hendrick come on the radio and say something to me, and to get phone calls from him from time to time telling me 'good job', that's pretty cool.
"It's a good confidence booster and he's obviously paying attention. He cares along with all the other people that go with it.
"I'm really fortunate to have good people looking after me, hoping to their best to see me succeed."
At JR Motorsports Patrick currently works alongside Tony Eury Jr, who served as crew chief for Dale Earnhardt Jr in Cup up until 2009. He is expected to continue to work with her next season, something she values as they continue to build up to her first full season in the sport.
"I just try to surround myself with good people and get support and I ask a lot of questions and I try to take as much advice as I can from people, trying to fast-track my learning," said Patrick.
"I'm lucky to have Tony Eury Jr. I know he's got a lot of experience and he listens to me and I feel like we just keep getting better over time, for him to know what kind of characteristics on the car I like.
"And obviously I feel like I'm getting better to where I know what I'm looking for, more so than before. With those things hopefully we can be successful, but everybody's different."
She added: "I think the most important thing is that you're lucky enough to be with a very established team that has good resources."
Patrick competes at Kansas Speedway this weekend in her 22nd NASCAR Nationwide series outing, her ninth of the season thus far.