Clint Bowyer completes deal to join Michael Waltrip Racing
| | |
| --- | --- |
| By Diego Mejia | Friday, October 7th 2011, 20:04 GMT |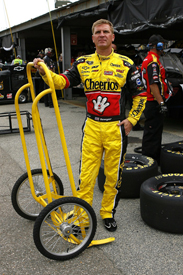 Clint Bowyer will drive for Michael Waltrip Racing from 2012, the NASCAR Sprint Cup Series team announced on Friday.
Bowyer will turn a page on his career at the end of the season, leaving Richard Childress Racing after driving for the outfit in NASCAR since 2004. He has agreed a three-year deal to drive Waltrip's #15 Toyota Camry.
Despite having hinted at a new deal being close with RCR a couple of months ago, Bowyer's negotiations with his current employer hit a stumbling block. According to the 32-year-old 2008 Nationwide Series champion, negotiations with RCR to bring in a new personal sponsor to the team were not successful.
A few weeks ago MWR confirmed team officials had held talks with Bowyer and sponsor 5-Hour Energy about a potential deal which eventually came to fruition, adding a third car to the existing two the outfit fields.
In nearly six full seasons at Cup level, Bowyer has won four races and finished a career-best third in the standings in 2007. He missed the Chase this season but has been a contender at the front during the play-off races, losing a possible win at Loudon two weeks ago when he ran out of fuel while in the lead.
"This has been a very long summer, but I think for everyone involved, the best decision was made to be at Michael Waltrip Racing," said Bowyer.
"I am a big fan of 5-hour Energy so I was really happy when they approached me about putting a deal together. We were diligent in working through our options and finally found the right fit.
"I have been so impressed with what's going on at MWR. Then when the 5-hour Energy executives met with Michael and his people, we knew this was going to be our home.
"I've been with one organisation for my entire Sprint Cup career and leaving there was the hardest part of the decision. But now I'm ready to start the next chapter in my racing career."
MWR is in its fifth full season at Cup level, earning two wins thus far with David Reutimann, who drives the team's #00 entry. Martin Truex Jr has driven a second MWR car since 2010 and the squad gives technical support to JTG Daugherty Racing, which fields former Cup champion Bobby Labonte. It remains to be seen if that relationship continues into 2012 now that MWR will have its own third entry.
"This is a watershed moment for our young organisation," said Michael Waltrip, who co-owns MWR with Rob Kauffman. "Clint is a proven winner and consistent Chase participant. He had a lot of options and it makes me proud that Clint and 5-hour Energy chose to race with us.
"This announcement continues to show our partner Toyota, our sponsors, our employees and the entire NASCAR community that MWR is serious about success and dedicated to winning."
Alongside Bowyer's move, MWR recently announced the signing of former RCR director of competition Scott Miller who will become the outfit's executive vice president for competition.