Wickens vows not to change approach for title decider
| | |
| --- | --- |
| By Peter Mills | Friday, October 7th 2011, 16:49 GMT |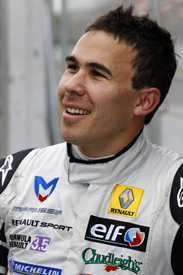 Formula Renault 3.5 championship leader Robert Wickens says he will not change his approach for the season finale, despite a slender two-point lead over in-form Carlin team-mate Jean-Eric Vergne going into this weekend's title showdown.
The Canadian produced a competitive showing during Friday's collective tests at Barcelona, despite contending with a set of mismatched tyres during this morning's opening session.
"We were a bit screwed in the morning because of the puncture from Paul Ricard," said Wickens, who finished sixth in the morning and third fastest on Friday afternoon. "Our first set was kind of all over the place. Both rears had different mileages, and then the fronts had less mileage than the rears.
"The car was a bit lively for the first few runs. We tried to prolong putting on our better set. Really, we needed one more set for this weekend, but the car is good and the baseline set-up is really strong, so that has made our lives quite a bit easier."
Wickens' advantage over Vergne in the drivers' standings has been reduced from 34 points after the Silverstone meeting in August, to just two points entering this weekend (the erosion being hastened by the reinstatement of Vergne's round three victory at Monza on appeal).
"Well, I was slightly surprised JEV got the Monza win back," Wickens commented at Le Castellet. "Because we lost my own appeal [for an unsafe pitstop release at the Hungaroring] when [Alexander] Rossi behind said he didn't even have to brake."
Following the opening day of practice at Barcelona, in which he was faster than Vergne in both sessions, the Marussia-backed driver was in more positive mood.
"We did a lot of race runs in both sessions," continued Wickens. "Judging by our lap times it is pretty promising. I made a couple of mistakes and underestimated the grip levels on my new tyre run, so I didn't actually do my best lap until lap five.
"Hopefully there is a couple of tenths there, and I think we are in a good position to try and score pole and then maximum points tomorrow."
Having finished runner-up in the inaugural FIA Formula 2 series in 2009 and in GP3 last year, the 22-year-old is aiming to capture his first championship since Formula BMW USA in 2006.
"I had the 'guns' out on the catwalk, but it was alright. I got back on Tuesday last week, so I had a full week in which to do a lot of training. I was extremely jet-lagged for the first three nights that I was back in the UK, but I don't know why as I stayed on GMT for the whole Singapore weekend. It was just affecting me in the mornings.
"I feel like I have put together a pretty decent championship this year, so I don't see why I should change my approach this weekend. Now it's time to go and have some fun."