Alister McRae says Rally of Scotland's opening night stages will be key tests
| | |
| --- | --- |
| By David Evans | Friday, October 7th 2011, 15:41 GMT |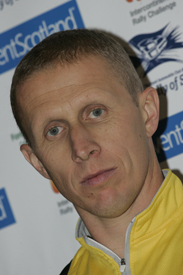 Scottish rally star Alister McRae says the two dark stages which open Rally of Scotland this evening could be pivotal to the outcome of the event.
Crews face two shots at the five-mile Carron Valley test, starting at just after 19:00 local time tonight.
"That new stage will definitely be a big challenge," said Proton driver McRae shortly after completing his two recce runs through the test. "It looks like a difficult enough stage in the daylight, but in the dark it will be really tough.
"It's just possible there's going to be a wee bit of rain or mist around, which will spice things up nicely."
McRae added that competing in the dark was always more of a challenge.
"You rely more on an accurate set of pace notes," he said, "and with this being a new stage, we've all had to make new notes.
"Of course, the other thing you really rely heavily on is the lights and having them set up perfectly. When you get it right, it can be like daylight when you get in there with the spotlights on, but get it wrong or knock them out of line and it can be really frustrating and distracting. They might not be very long, but they're going to be very tough, those two tonight."
The Rally of Scotland starts from Stirling Castle at 19:00 and arrives at the start of SS1 29 minutes later.