Aldo Costa says rejoining ex-Ferrari colleagues at Mercedes was too tempting to turn down
| | |
| --- | --- |
| By Michele Lostia and Matt Beer | Monday, October 3rd 2011, 10:29 GMT |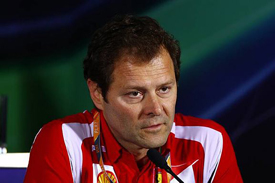 New Mercedes recruit Aldo Costa says the opportunity of renewing his relationship with Ross Brawn and Michael Schumacher to challenge their old team Ferrari was more than enough to tempt him back into Formula 1.
Former Ferrari technical director Costa lost his position with the Italian team earlier this season after the disappointing start to its campaign. Mercedes announced on Friday that it had recruited Costa, who had worked with team boss Brawn at Ferrari during the Schumacher era, as its new engineering director.
His appointment came at the same time that ex-Williams, Honda and Red Bull man Geoff Willis was announced as Mercedes' new technology director, and follows the signing of former Renault man Bob Bell as Mercedes GP's technical director.
"I'm enthusiastic. Mercedes is pushing to be successful and that philosophy matches my ambitions and my character," Costa told Gazzetta dello Sport.
"Once it was over with Ferrari in early July, I spoke with Brawn and Bob Bell. Just a few words with Ross were enough to find ourselves on the same wavelength as ever.
"Once out of Ferrari for many weeks I didn't want to think of anything, I just took care of my personal stuff.
"Yes, I considered the possibility of doing something outside racing. But then the possibility of returning with a big team like Mercedes drew me back in.
"I will be engineering director, leading the team that will take care of designing and developing the car. I will also follow young technicians. It's an exclusively designing job, I won't go to the track, a bit like I used to do in Ferrari before becoming technical director."
Costa added that he was thrilled to be working with Schumacher again.
"I haven't heard from Schumacher yet, but I will do soon," he said. "No one is as good as him in interpreting a car and its development. He will be fundamental, and I strongly believe in him as a driver too."
The Italian said that though there had been criticisms of his efforts from Ferrari after his departure, he still had fond memories of his time there.
"I don't agree with the accusations made against me," said Costa.
"However I have great memories of Ferrari and all its men, after winning eight constructors' championships and six drivers'.
"Schumacher's first title after a long draught was exhilarating as was [Kimi] Raikkonen's. The biggest regret is the title lost by [Felipe] Massa in 2008 after the finish line at Interlagos. He would have deserved it."
Costa said he would still think of Ferrari as "friends" even as he pushed to ensure Mercedes was ahead on the track.
"These things happen in sport and in life," he said of his departure from Ferrari. "Afterwards enthusiasm returns.
"The idea of challenging Ferrari with a group of former Ferrari men excites me, even though on the other side there will be friends instead of enemies."