Bruno Spengler says Oschersleben damper failure cost him the DTM title
| | |
| --- | --- |
| By Jamie O'Leary | Monday, October 3rd 2011, 09:53 GMT |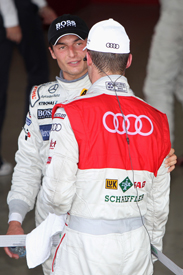 Bruno Spengler believes his damper failure at Oschersleben cost him his chance of winning this year's DTM title.
The HWA Mercedes driver shot into an early championship lead after winning twice during the opening half of the season, but saw his Audi rival Martin Tomczyk wrap up the championship at Valencia last weekend with a round to spare.
While gracious in defeat, the Canadian, who is now only two points ahead of third-placed Mattias Ekstrom ahead of the Hockenheim finale, said that his aim is now to secure the runner-up spot in the championship in three weeks'time.
"We were very unlucky in Oschersleben, and that's what cost us the title," said Spengler. "We had eight good points there that we lost. It's really tough for the whole team.
"Sure I don't feel good about it, but it's not the worst thing in the world to be able to fight for a championship as close as this four times. I'll just hold up and carry on and go to Hockenheim trying to win now."
Mercedes motorsport vice-president Norbert Haug agreed with Spengler's assessment of the season, but praised his driver, who is the only Mercedes man to have won or started from pole position during 2011.
"The damper was our killer at the end of the day," he said. "I'm disappointed, but I'm a sportsman at the end of the day and if somebody else does a better job then it is what it is.
"I'm not the man to say that second is first of the losers, because that is certainly not the case with Bruno, and a sportsman can see that when you challenge for a title like this four times in seven years, you are no loser."