Martin Tomczyk elated to win DTM title with Valencia podium
| | |
| --- | --- |
| By Jamie O'Leary | Sunday, October 2nd 2011, 16:29 GMT |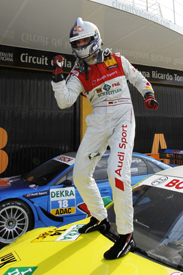 Martin Tomczyk was unable to describe his feelings after wrapping up his first DTM title with a third placed finish at Valencia.
The 29-year-old German twice overturned points deficits to Mercedes driver Bruno Spengler earlier this year, meaning that after a decade of competition in the DTM, and after having been demoted from the Abt squad to an old-spec Phoenix Audi this season, he was able to secure the championship with his podium finish.
"At the moment it's difficult to find the right words, but sure I'm happy," said the new champion. "I've been 11 years in DTM and I've finally won the championship.
"At the beginning of the season nobody counted on me with the circumstances I had, coming in the last year's car and getting a new engineer. But for I have to thank Phoenix Racing and [team principal] Ernst Moser.
"We followed a goal and we soon had to change our goal from just being the best last year's car, but fighting for the championship. This we did successfully. It's not just Phoenix, also Abt and Rosnerg, and they played really well together and it all worked out.
"Sure it's a nice feeling to win in a last year's car, but at the end of the day the title is the title, and as long as you win it, it doesn't matter what you're driving.:
Race winner Mattias Ekstrom, who memorably beat both Spengler and Tomzcyk to take the 2007 DTM crown at the Hockenheim finale, said that his fellow Audi driver's title was a long time in the making.
"I know exactly what he's feeling right now," said the Swede. "He's been my team-mate for 10 or 11 years and he's helped me a lot in the past.
"A lot of people doubted him, I know, but when I won the 2007 title and he had a puncture in that race, I knew he'd only lost because of bad luck, and when you're a driver who works hard - like Martin – and not a lazy one, you make more luck. He's made zero mistakes this year and really deserves this."