Q & A: Dani Sordo on leading the Rally of France for Mini
| | |
| --- | --- |
| By David Evans | Friday, September 30th 2011, 18:45 GMT |
Mini driver Dani Sordo is leading the Rally of France at the end of the opening day in the Alsace region - a major breakthrough in the new Mini World Rally Championship programme.
The Spaniard talked to AUTOSPORT about his progress through the day in his John Cooper Works WRC.
Q. You're leading the rally. How does it feel?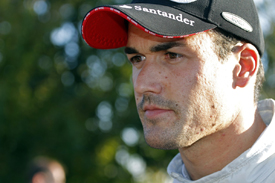 Dani Sordo: It's good! If I could be leading one rally, it would be this one. To be leading in Citroen's home is very, very nice.
Q. Is it more special to be leading here in a Mini?
DS: Of course it is more special. We are with the new team and we don't have a lot of experience with the car, so it's a great result from today. But it is only one day, we don't have to forget that we still have two more days to go.
Q. Does it make a difference to be leading in Citroen country?
DS: Yes. Like you say, it is France and Citroen country, it's better to be here and to be ahead of the Citroens.
Q. You were very close to Sebastien Loeb in the same car as him last year and now you're leading this rally - that must mean the Mini is very good?
DS: It is a very good car, but don't forget this is really a different rally from last year. Last time there was a lot of mud and the road was quite different. Now the roads are much, much faster. We have to make new notes and everything, this is like a new rally.
Q. Is the car the same as it was in Germany?
DS: Yes, there is nothing different from the last time we were competing.
Q. What can you do for the next two days?
DS: I will try to push hard for the next two days.
Q. You can win this rally?
DS: Why not? It will be tough, really tough because there are many people fighting: [Sebastien] Ogier, [Petter] Solberg and maybe Kris [Meeke] as well, this event is interesting for everybody.
Q. How hard have you been pushing?
DS: Very, very hard. We are on the limit. I don't know about Ogier, but I think Solberg is also on the limit with the car. It's a big fight.
Q. Any changes to the car tomorrow?
DS: Maybe some small changes, nothing major. The road is a little bit bumpy tomorrow, maybe we need to make some small change for that.