Kris Meeke furious after corner-marking pole nearly ends his Rally of France
| | |
| --- | --- |
| By David Evans | Friday, September 30th 2011, 11:26 GMT |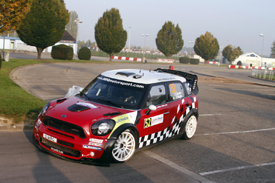 The poles placed on the inside of the corners on the Rally de France stages came within millimetres of putting Kris Meeke's Mini WRC out of the event.
Meeke's Mini, running in fourth place, struck one of the poles. The steel bar came through the front of the car and stopped just inches away from hitting the radiator.
"It's just stupid," said Meeke, "totally ridiculous. Fifty per cent of the poles have gone since we went through on the recce and a load more have been hit and bent.
"The pole we hit was at 45 degrees and pointing straight into the road, you couldn't get around it. It went into the front of the car and could have finished our rally.
"What's wrong with putting some straw bales on the line instead of these things?"
Skoda driver Juho Hanninen was another victim. The Finn was leading the S2000 class going into the third stage until he hit a pole which caused a front-right puncture.
Hanninen's co-driver Mikko Markkula explained: "The pole went through the bumper and into the tyre. We lost more than two minutes. It's very disappointing, but it could have been worse - the pole could have come straight into the car."
Ford driver Mikko Hirvonen suspected spectators had been tampering with the poles.
"They were all in the right place when the safety crews went through the stage before us, but then we get there and many of them are gone - I think it must be the spectators," he said. "It makes it very hard to commit to corners when you don't know if you are going to cut or not."
Hirvonen added that his own accident on the third stage was partly caused by the poles being removed.
"Okay, I was too fast, but the pole had been taken away as well, so this didn't help," he said.