Hirvonen to start Rally de France with aggressive asphalt trim
| | |
| --- | --- |
| By David Evans | Thursday, September 29th 2011, 15:21 GMT |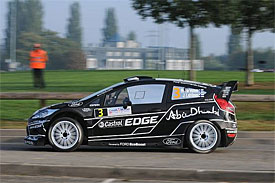 Ford driver Mikko Hirvonen will start Rally de France with his Ford Fiesta RS WRC in its most aggressive asphalt trim yet as he attempts to end Citroen's domination of its home round of the World Rally Championship.
Hirvonen and the Ford team spent a week testing the Fiesta RS WRC ahead of this event, with the time split between a race track and a rally stage. Markko Martin and Ott Tanak joined factory drivers Hirvonen and Jari-Matti Latvala at the test.
After Hirvonen was unable to fight with the Citroens on Rallye Deutschland in the summer, the Finn has been looking at ways to improve his pace in the Fiesta - and a change of suspension set-up looks to have worked.
"Definitely the car was too soft in Germany,' said Hirvonen. "The car is much stiffer here in France. We worked on the damper settings, the dampers themselves, the springs, everything."
A softer car on asphalt is generally more forgiving, more confidence inspiring, but ultimately not as quick. The stiffer the car, the quicker but more edgy is usually is.
"Hopefully," said Hirvonen, "we're coming here for a quick car not to a comfortable car. Maybe my problem on tarmac has been that I know how to drive, but not how to make the car to work on tarmac and be fast on tarmac. Maybe this is a new way to go. In a way, the car will be more on the edge than it has been before."
Hirvonen arrives in Strasbourg 15 points off championship leader Loeb, following a disastrous Rally Australia for the Citroen team.
"I like the situation again," said Hirvonen. "We're back in the fight again. I know it's going to be tough, we've got two tarmac rallies and then one gravel and we're in France on tarmac and it's going to be difficult to win, but you never know what's going to happen. But, like I said, I like this situation again."