Brad Keselwoski confident of maintaining charge after strong Chase opening
| | |
| --- | --- |
| By Diego Mejia | Tuesday, September 27th 2011, 15:06 GMT |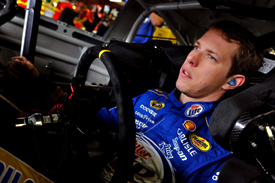 Brad Keselowski is confident he can remain in close contention for the Sprint Cup title after a strong start to the play-off puts him third in the standings.
The Penske driver finished second at Loudon last weekend, making up two places in the closing laps as rivals Clint Bowyer and Greg Biffle ran out of fuel while running ahead of him.
He was able to charge back from a difficult start to his race as balance issues and unlucky strategy calls placed him down in the order.
After two Chase events Keselowski has vaulted up from eleventh to third in the standings, making as much progress as leader Tony Stewart, who has also moved up eight positions following last weekend's race.
The current Nationwide Series champion has praised his team's efforts of capitalising on their chance to be a Chase contender and believes that if they can maintain their form in the next three weeks, they will definitely have a shot at the title.
"To me, if we get through this first four or five, you know I think we've got a really good shot at it," said Keselowski.
"To get through Chicago with a fifth and a second [at Loudon], it's a huge booster of morale for my team and momentum for Penske Racing. I just hope that we can continue to capitalise and I think that's why we are where we are.
"We've been able to capitalise with good execution on pit road and good adjustments on our car and not getting caught up in somebody else's mess. But you know that stuff can go the other way just as easily as it's gone the right way for us over the last few weeks.
"I'm still very proud of what we've done but we still have a long way to go, a really long way. There's eight big races left, and of course you can throw in Talladega - I don't think anybody can tell you what's going to happen there."
Keselowski is optimistic looking ahead to the tracks coming in the Chase, which he believes will favour his chances of keeping his momentum, particularly having already gone through venues where he didn't anticipate running strongly.
"Well you know I think we've run really well at the mile-and-a-half [tracks]," said Keselowski. "We needed to get through the races where we didn't feel like we were very good. These first two tracks were [in that category] and we did it.
"It just gets us in position. We're executing very well and have good momentum, good mojo.
"I think Dover, you can't help but compare it to Bristol and after winning Bristol I feel really good going there."
While Keselowski continues his march in the standings, moving up from 23rd since the series last raced at Loudon in mid-July, his Penske team-mate Kurt Busch has slid down to ninth in points after a difficult race at Loudon last Sunday.