Kamui Kobayashi admits 2011 season has been 'mixed' for Sauber
| | |
| --- | --- |
| By Pablo Elizalde | Tuesday, September 27th 2011, 08:38 GMT |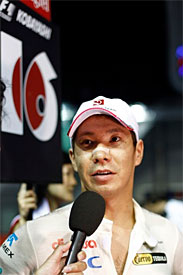 Kamui Kobayashi has labelled his second full season in Formula 1 as "mixed" following the ups and downs his Sauber team has experienced.
The Swiss squad was very competitive in some races - especially in the early part of the season - but has scored just three points since the British Grand Prix.
Sauber, currently seventh in the championship, has dropped behind Force India in the standings and has Toro Rosso just seven points behind with five races left.
Kobayashi admitted the team's progress has not been as strong as expected during parts of the season.
"We are certainly more competitive than last year," said Kobayashi. "We had an amazing start to the season in Melbourne, and also since then have had some other good races in which we have been quite competitive. My highlights were Monaco and Montreal.
"But we have also had our struggles. In Melbourne we lost ten points when we were disqualified, then I had punctures in Turkey and Barcelona, and then gearbox problems in Silverstone and most recently in Monza.
"You can add to that the fact not all our technical developments during the season brought the progress we expected. So far it has been a mixed season with ups and downs, but it isn't over yet."
Kobayashi, the only Japanese driver in F1, said he is looking forward to racing in his country next week, and he feels the grand prix will be positive for the nation following the tsunami disaster.
"Yes, this is definitely the case. The Grand Prix is a very big event in Japan, it is something very positive for the people and for the country, and also because of the international awareness the race brings.
"It makes people happy, and they do enjoy Formula 1 a lot. So we are going racing there, as we have done in previous years, despite the tragedy that has hit the country."