McLaren aims to hit the ground running in 2012
| | |
| --- | --- |
| By Jonathan Noble | Saturday, September 24th 2011, 11:43 GMT |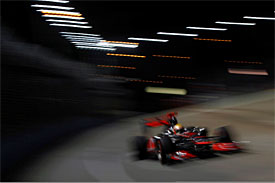 McLaren is hopeful that a solid winter and change to its infrastructure can make it a team to be 'feared' next year as it bids to end Red Bull Racing's domination of Formula 1.
With the outfit having seen its title hopes fade over the course of the season as it was unable to stop Sebastian Vettel building up a huge lead in the points standing, McLaren is focused on ensuring it responds in style next year.
And team principal Martin Whitmarsh thinks that the team can return to title glory in 2012 providing it hits the ground running at the start of the campaign.
"We need to have a quicker car at the beginning of the year," said Whitmarsh ahead of qualifying for the Singapore Grand Prix.
"I think the guys are working hard, each year - the nature of F1 is that it is cyclical as you know. It comes and goes.
"McLaren is a great team that can recover from a bad start, many teams cannot do that, but it is much better not having to recover from a bad start. We have produced winning cars many times before, we have a great team of guys, engineers, and we are very focused on doing it for next year."
He added: "We have been racing for quite a few years, we have built cars quicker than Red Bulls in the past and we can do it in the future.
"I don't have the obsession that some of you have with Red Bull. Our job is that there is a set of technical regulations, we have to work very, very hard creatively and minimise risk and anything that absorbs too much time and energy, and make sure we have a very quick car from the get go. I think that is what we are aiming to do.
"What Red Bull are doing, or Ferrari, or Mercedes, or any other teams should not be our focus; it is actually how we believe we can make the best car to win races."
McLaren has signed outgoing Williams technical director Sam Michael to be its new sporting director next season, and Whitmarsh believes he will add strength to the outfit
"I think you are always going to be working to improve the team," he said. "We are delighted that he is coming here. He is coming as sporting director – so it is a career directional change for him. He has been on the technical side, being a race engineer of Jordan, being technical director at Williams, but we made a proposal in saying that perhaps his strength lies in working operationally in the field with the race team.
"So his job is quite simply as sporting director to make sure McLaren is the best and most feared racing team in the world."