Jimme Johnson reckons low tyre wear is making fuel mileage key to NASCAR races
| | |
| --- | --- |
| By Diego Mejia | Friday, September 23rd 2011, 19:07 GMT |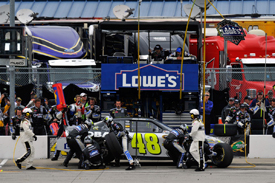 Jimmie Johnson believes more durable tyres are playing a big role in NASCAR Sprint Cup races coming down to fuel mileage, and expects the tendency to continue through this year's Chase.
On Monday at Chicagoland Speedway, Johnson was one of several Chase contenders who ran out of fuel on the last lap of the race, following a final stint where all the leaders ran in fuel conservation mode to avoid an additional stop.
As the race went caution-free for the last 50 laps, many struggled to save enough - although some eventually succeeded, as race winner Tony Stewart claimed his first victory of the season ahead of an almost equally efficient Kevin Harvick.
Johnson, who was classified 10th after coasting to the finish line, believes fuel mileage has played a bigger role this year than in previous seasons. At least five races have come down to fuel-saving in 2011 and the reigning champion anticipates there will be more during the Chase, mainly due to the nature of the current Goodyear tyres and how they wear at most tracks.
With not enough performance reward for drivers risking pitting for fresh rubber and fuel while others save, he expects the tendency to continue.
"This year I think we'll see fuel mileage play a larger role in the championship than we have in years past," Johnson said at Loudon. "When you mention Phoenix, it's now repaved and we were there for a tyre test. You can't wear the tyre out on this new asphalt so it's going to be a fuel mileage race. Talladega to a certain degree will, here will be for sure.
"We have a lot of tracks with very low tyre wear that will promote fuel mileage races."
Matt Kenseth voiced his frustration last week after contending for victory for most of the race at Chicagoland, only to run dry on the last lap. He was also penalised after being pushed by fellow Ford driver JJ Yeley on the last lap, while trying to get across the finish line.
He agrees with Johnson's view that the tyres are causing races to unfold this way, but also feels the new E15 fuel and the aerodynamics of the current Cup car are factors. However he admits sometimes it just comes down to the timing of the cautions.
"This year there has been more of that than ever," said Kenseth about fuel-mileage races. "It honestly could come into play every week. It probably won't, but it could. It seems like we've had more of those races than we've ever had.
"With this tyre and the Ethanol fuel, we use more quantity of fuel - we use less gasoline, but we're using more fuel and our mileage isn't as good, so therefore we run less laps between fuel stops.
"As hard as it is to pass, all of those things come into play. When the last caution falls is the biggest thing. If the caution would have fallen four laps later, we would have run three more pace laps and we all would have made it and been able to race hard to the finish, but with the way the caution fell and a piece of metal being on the track, there's not a lot anybody can do about that."
Dale Earnhardt Jr, who finished third at Chicagoland and claimed his last victory three years ago on a fuel-economy run at Michigan, says there is little that can be done to avoid such scenarios taking place repeatedly.
He says teams have to consider fuel mileage a lot more than in the past in their pre-race preparations, not only in terms of engine settings but also in how the driver's technique has to adapt in order to be more efficient while saving.
"There is nothing really you can do to get rid of them," said Earnhardt. "Even if you change the size of the fuel cell, the way you race is you pit as soon as you get inside the pit window. However, you want to call it fate or whatever, it seems like all those cautions seem to come out at that particular time, right on the edge of making it to the end.
"They are part of the sport and they come around with more regularity than you would imagine.
"We all sort of study about what to do, what would be the best way to save gas, whether it be just lifting off the gas, simply lifting and just coasting into the corner, lifting earlier than you normally would, weather you need to turn it off, clutch the motor, whatever, there are all kinds of techniques that guys have and think it's good."
Last year the first round of the Chase at Loudon also came down to fuel mileage, with Stewart running out of gas while in the lead, handing victory to Richard Childress Racing's Clint Bowyer.