NASCAR Sprint Cup drivers expect two-car drafts to continue
| | |
| --- | --- |
| By Diego Mejia | Friday, September 23rd 2011, 18:59 GMT |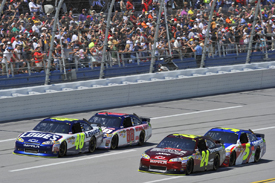 NASCAR Sprint Cup Series drivers still expect two-car tandems to prevail in next month's Chase race at Talladega, despite organisers announcing technical changes this week in an attempt to hinder them.
More horsepower through bigger holes in the restrictor plates and lower pressure on the relief valve of the cooling system are the two steps NASCAR has taken towards trying to limit the new style of racing that has ruled at Daytona and Talladega this year.
While marginally higher speeds are expected as a result, drivers seem to agree that there will not be a change in the way the race unfolds. Stewart Haas' Ryan Newman says the biggest change will come with the adjustment to the cooling system, although that too may well be negated by lower ambient temperatures.
"I think the speed is not so much of an issue," said Newman. "It is very difficult to do what we do, with the tandem drafts and getting our cars lined up bumper-to-bumper and not crashing each other or the entire field, it is obviously going to be faster from that standpoint.
"I don't know that five to 10 horsepower over 415 or whatever it is is going to be the answer to cars being able to bust out of line and pass somebody. I don't think that is necessarily the case.
"I do know that the biggest change of the two changes was the pop-off valve deal. Just trying to get the cars not to push as long, basically is NASCAR's objective there. Whether they want it or the fans want it, I don't know. To me it is something that we'll consider. But that eight pounds is a decent change, but actually the ambient weather conditions can be a bigger change than what that change was."
Six-time Talladega winner Jeff Gordon does not expect much of a change in the style of racing either, and he even anticipates drivers may be able to handle the change on the cooling by adjusting their drafting technique. However, he fears a need for more frequent swapping in the drafting pairings may ignite more incidents.
"I don't anticipate the rules changes changing much," said Gordon. "I'm not in favour of swapping more. I know that a lot of people don't like us running nose-to-tail like that but it's far more dangerous doing more swaps. [It] causes far more chances to have crashes when you're swapping, specially at the end of that race when you're in the middle of the pack and all of a sudden cars just swap.
"So I'd rather us not have to swap, I think the racing would be better and it'd be safer. The restrictor plate will make it interesting. I'm hoping that has more of an impact than anything else.
"I'm not even sure we're even still going to need to swap. We'll probably just going to have to move the nose out further to get more air to the radiator. We'll have to work on that in practice."
Dale Earnhardt Jr, who has been critical of the new style of racing, welcomed the changes announced by NASCAR but he doubts those alone will be enough to break up the tandems when they return to Talladega next month.
"I think it will make us go faster, which is something we needed to change in the way the racing is," Earnhardt said. "I think the racing was exciting - nobody can argue that the finish of that last Talladega race was not exciting.
"I like the different style of racing that we used to have. Where you did not have to have a partner, you didn't have to be pushing each other every lap. It is just not what I prefer and that is my own personal opinion.
"I think we will go a little faster, I am not sure it will break up the two-car drafting or not, but I hope it does. I think it was a great move."