Injured Justin Wilson upbeat but says returning for Las Vegas is highly unlikely
| | |
| --- | --- |
| | Friday, September 23rd 2011, 08:20 GMT |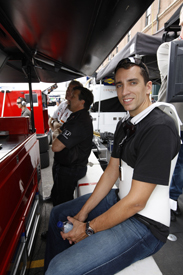 Leading IndyCar driver Justin Wilson says he is making good progress with his recovery from the back injury he sustained at Lexington - but has ruled out a return for this year's season finale.
The Briton suffered a fractured vertebrae when his Dreyer & Reinbold car went off the road in practice for the Mid-Ohio event last month. He has been undergoing treatment since, and feels he has made great strides.
"If I think back to how I felt immediately afterwards, and compare that with what I can do now, it's been great progress," Wilson said.
"It started to get less painful after the first two weeks and a couple of weeks ago I was able to raise my arms above my head for the first time. Now I'm in the swimming pool every day and doing some upper body exercises, so things are starting to feel normal again."
There had been suggestions that Wilson might be able to return for the IndyCar finale at Las Vegas on 16 October, but he does not feel this would be worthwhile regardless of his fitness.
"I might be fit enough to drive at Vegas, but for the sake of one race, when I'm not in contention for anything in the championship, it just doesn't make sense," Wilson said. "Jumping in the car after 11 and a bit weeks isn't the right way to see if my back is 100 per cent healed or not."
Dreyer & Reinbold has used Simon Pagenaud, Tomas Scheckter and Giorgio Pantano as stand-ins during Wilson's absence. It has yet to announce who will take his place for the final two rounds at Kentucky and Las Vegas.
"It's obviously been frustrating not being able to drive the #22 car," said Wilson. "I felt we'd turned the corner on a disappointing start to the season and had genuine hopes of being up near the front in the second half of the year. But it won't be long now until pre-season testing starts and I can focus on 2012."