Barrichello untroubled by speculation linking Kimi Raikkonen to his Williams seat
| | |
| --- | --- |
| By Jonathan Noble and Edd Straw | Thursday, September 22nd 2011, 17:07 GMT |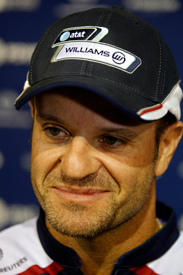 Rubens Barrichello says he is not going to waste time worrying about losing his place in Formula 1, amid mounting speculation that Kimi Raikkonen is pushing to replace him at Williams next year.
It is understood that Raikkonen visited the Williams factory ahead of the Italian Grand Prix for talks with the team, as the former world champion eyes a return to racing in 2012.
Although sources suggest that Williams is chasing a sponsor-backed driver to be team-mate to Pastor Maldonado in 2012, a tie-up with Raikkonen could also be financially attractive because it could lure fresh backers.
Williams has so far declined to comment on the Raikkonen situation, and confirmed only that the Finn paid a 'private' visit to the factory recently for unspecified reasons.
Barrichello is keen to remain at the outfit in 2012, and said he was not getting distracted by the suggestions that Raikkonen is keen to land an F1 return with Williams.
"Right now is a big time for rumours and there is no point," said Barrichello ahead of the Singapore GP. "My Twitter [account] is going crazy with people asking things.
"Whatever people say about me is not true, so I cannot rely on other information about other drivers. Whenever I meet with my family, they ask me crazy things that they read in the press. To say something now will make more fuss.
"But definitely I want to be racing next year. That's my point. I feel better prepared than at any other time."
He added: "Williams has unfortunately not given me a good car yet and the moving forward means that we should stick together with a good and better car next year.
"There are a lot of changes and the less changes you make on the driver side, the more opportunity you get. A good example is Ferrari - they do better because if they have good drivers they continue.
"I have had a fantastic 19 years [in F1] and I want to do my 20th. If everything goes well, I will do my 20th."
Maldonado's place at Williams next year is assured, thanks to the team's sponsorship contract with Venezuelan oil company PDVSA.
AUTOSPORT understands that next year's deal could be worth between £21 million and £29.4 million depending on the level of logo exposure PDVSA has on the car.
Other drivers believed to be on Williams' shortlist for next year who have funds behind them include Bruno Senna, Adrian Sutil and Giedo van der Garde.