A 39-car field has been confirmed for next month's IRC Rally of Scotland
| | |
| --- | --- |
| By David Evans | Wednesday, September 21st 2011, 14:28 GMT |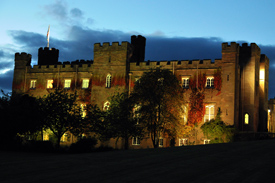 The entry list for next month's Rally of Scotland has been revealed and, as predicted by AUTOSPORT, it is one of the strongest of the Intercontinental Rally Challenge season to date.
Monte Carlo Rally winner Bryan Bouffier is seeded at number one, with his fellow Peugeot factory runners Thierry Neuville and Guy Wilks at four and seven respectively. There are four Skodas in the top 10, for Jan Kopecky, Freddy Loix, Juho Hanninen and Andreas Mikkelsen.
Proton's Scottish star Alister McRae starts at nine, one place behind P-G Andersson in the sister Satria Neo S2000. McRae is delighted to be contesting Scotland's biggest motorsporting event for the third time in succession.
"It's fantastic to see such a strong entry for the event," said McRae. "It's definitely going to be one of the most keenly fought rallies of the year. Obviously, I've got good memories of the roads up there - and the fans are pretty good too!"
McRae posted Proton's best ever IRC finish on the 2009 Rally of Scotland, when he finished second to Wilks, and he says the Malaysian machine has been improving all year.
"Obviously winning a rally like this would be a really tough task," said McRae. "The guys we're going to be fighting against have been battling with each other on a regular basis this year, and this will be our first IRC outing of the season.
"It's been fantastic competing in the APRC [Asia-Pacific Rally Championship], but the IRC is definitely a step up. The Proton has been getting stronger and stronger all year, though.
"The team has done a fantastic job with the car, working on the suspension and engine - we're definitely a big step ahead of where we were this time last year."
While McRae has not competed in IRC this year, he will arrive in Scotland match-fit, having just tackled the penultimate APRC round in Japan (Hokkaido Rally).
The entry list for Rally of Scotland includes 39 entries, its strongest entry to date. The event runs from October 7-9.

Rally of Scotland 2011 top 20

 1.  Bryan Bouffier/Xavier Pansei          Peugeot 207 S2000
 2.  Jan Kopecky/Petr Stary                Skoda Fabia S2000
 3.  Freddy Loix/Frederic Miclote          Skoda Fabia S2000
 4.  Thierry Neuville/Nicolas Gisoul       Peugeot 207 S2000
 5.  Juho Hanninen/Mikko Markkul           Skoda Fabia S2000
 6.  Andreas Mikkelsen/Ola Floen           Skoda Fabia S2000
 7.  Guy Wilks/Phil Pugh                   Peugeot 207 S2000
 8.  P-G Andersson/Emil Axelsson           Proton Satria Neo S2000
 9.  Alister McRae/Bill Hayes              Proton Satria Neo S2000
10.  Toshi Arai/Dale Moscatt               Subaru Impreza WRX
11.  David Bogie/Kevin Rae                 Mitsubishi Lancer Evo IX
12.  Tonio Gardemeister/Tapio Suminen      Skoda Fabia S2000
14.  Karl Kruda/Martin Jarveoja            Skoda Fabia S2000
15.  Patrmik Sandell/Staffan Parander      Skoda Fabia S2000
16.  Jarkko Nikara/Petri Nikara            Mitsubishi Lancer Evo IX
17.  Craig Breen/Gareth Roberts            Ford Fiesta S2000
18.  Robert Barrable/Damien Conolly        Skoda Fabia S2000
19.  Alastair Fisher/Daniel Baritt         Ford Fiesta S2000
20.  Jonny Greer/Dai Roberts               Skoda Fabia S2000
21.  Matthias Kahle/Peter Gobel            Skoda Fabia S2000