NASCAR to investigate Paul Menard and Richard Childress Racing over Richmond incident
| | |
| --- | --- |
| By Diego Mejia | Friday, September 16th 2011, 22:40 GMT |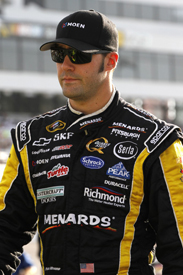 Paul Menard and his Richard Childress Racing team are under investigation from NASCAR amid allegations that they deliberately caused a caution last week at Richmond in an attempt to help Menard's team-mate Kevin Harvick win the race.
Suspicions have arisen from the radio communication between Menard and his team during the closing laps of last Saturday's race, where the RCR driver was continuously informed about the battle for lead between his team-mate Harvick and rival Jeff Gordon, while Menard was running several laps down after an incident involving Matt Kenseth caused damage to his car.
At one point in the radio conversation Menard's crew chief 'Slugger' Labbe was told to switch to a second radio channel and later the driver reported he felt the right rear tyre was losing air pressure until he spun on his own at the exit of Turn 4, causing the caution to wave with 15 laps remaining.
At the time Harvick was struggling for grip and had lost the lead to a charging Gordon. As the caution came out the leaders hit pit road for a final time to bolt on new tyres, giving Harvick a second chance to go for his fourth victory of the season, which he eventually claimed by leaving the pits ahead of Gordon and fending off Roush Fenway's Carl Edwards to the flag.
Menard has called accusations 'silly', saying he was on the track to try to retaliate against Kenseth for their previous incident, while Richard Childress put suspicions down to media speculation.
"There were no team orders despite all the speculation in the media," said team owner Childress in a statement. "I know Paul Menard well enough that he wouldn't have spun out on purpose even if he had been asked. We are at Chicagoland Speedway to win the race and get a great start toward the championship."
Although NASCAR initially said there were no indications of Menard doing anything inappropriate at Richmond, series president Mike Helton said on Friday at Chicagoland Speedway that the officials would take a second look at the evidence.
Gordon raised doubts about the issue while talking to reporters in Chicago on Thursday, further boosting the controversy ahead of the championship-deciding Chase that kicks off on Sunday. Gordon is starting the play-off three points behind Harvick due to the bonus the RCR driver earned for his Richmond win.
"In light of the suspicions, I guess, we're going to look into it and see if there is anything," Helton told reporters at Chicagoland Speedway. "A lot of it's going to be interpretation. But certainly I think it's on us to understand exactly what all we can find as far as facts are concerned.
"I remind everybody that an incident like that is a race procedure. We have in the past reacted to cars that caused cautions during a race. So it doesn't necessarily mean that we would find something after the fact and react to it, but it certainly would probably play a role in going forward as to our observations."
Richmond winner Harvick said Gordon questioning the caution that probably cost him a fourth win ahead of the Chase was simply him giving an opinion.
"He's voicing his opinion and I have no problem with that," said Harvick. "There's nothing that needs to be riled up or create a controversy. There's nothing there. It's something to where people have opinions and I have an opinion and that is not anything against Jeff Gordon or anybody involved. He's just asking questions and that's what he should do."
Despite all the controversy Helton still believes there is a strong 'code of ethics' among rivals in the series, although he insisted the sanctioning body will take a second look at the Richmond issue and decide what - if anything - needs to be ruled.
"We joke about there not being gentleman agreements anymore in our sport," Helton said. "But I do feel like there is a code of ethics among drivers that is alive and well and very strong, particularly in the Sprint Cup garage. I'm not necessarily overwhelmed by the chatter so far.
"Certainly we need to get our facts right and see what, if anything, went on and be prepared to officiate it. And as in the past, we have had conversations with drivers and car owners that are involved in the Chase or even before the Chase or when they come down in the wire to determine the championship. But I still think the code of ethics among the drivers on the racetrack is really, really strong."