| | |
| --- | --- |
| Honda duo say longer Saturday practice session will not make up for lost track time at Aragon | |
| | |
| --- | --- |
| | Friday, September 16th 2011, 17:26 GMT |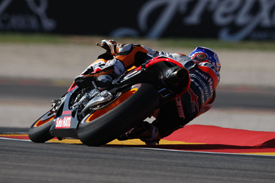 Honda's Casey Stoner and Dani Pedrosa say the extended morning practice session being provided at Aragon tomorrow will not make up for the loss of track time today.
The Friday afternoon session had to be abandoned when one of the transformers providing power at the circuit failed and left much of the venue without electricity.
Saturday's morning practice session has been extended from the usual 45 minutes to 75 minutes, but the Honda duo say the extra half an hour will not be as valuable as separate sessions with time to work between them would have been.
"Of course we will have a longer session tomorrow morning but you cannot take the same benefit from it," said Pedrosa.
"With two sessions of 45 minutes you have time to analyse the data and make the changes you need for the second practice, while in 1 hour 15 you cannot.
"Anyway, it's the same for everyone, so let's hope everything is okay tomorrow and we can keep improving the bike and have a good qualifying."
Stoner agreed and added that the additional running in the morning would make the qualifying day a tiring one for riders.
"Although we get the time back in the morning, it's not that great as it makes it a very long day with a lot of riding and it's pretty exhausting," he said.
"We've just got to focus on finding the best set-up we can tomorrow, thankfully the weather has been pretty consistent here over the past few days but I'm afraid the track will act similarly, we'll just have to wait until tomorrow."
Like most of the field, the Honda pair found that the soft Bridgestone wore out quickly in today's hot conditions.
"We saw that the softer compound is maybe too soft, so not really the one for the race if the high temperatures remain, so we also tried the medium compound and I felt comfortable," said Pedrosa.
Stoner added: "We didn't get that much time on the track this morning, we managed to get some data from the session but nothing that great.
"The track was a little abrasive and destroying tyres very quickly, we went out on the soft tyre and destroyed it in three to four laps so we tried to wait for the end of the session to see if the track got better but it didn't really change."