Vettel says there is still a long way to go in the championship
| | |
| --- | --- |
| By Pablo Elizalde | Tuesday, September 13th 2011, 14:21 GMT |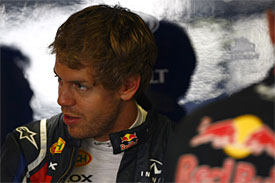 Sebastian Vettel says there is still "a long way to go" in the championship despite his huge gap in the standings.
The Red Bull driver scored his eighth win of the season at Monza last weekend to increase his lead in the standings to 112 points over Ferrari's Fernando Alonso.
Vettel could seal the title in the next race in Singapore if the results favour him.
Despite that, the German insists he is not thinking about the points or the gap, but just about doing a good job there.
"Looking at the championship obviously there is still some way to go," said Vettel. "We are in a very strong position, which I think we deserve to be in because we've been working very hard with very few mistakes. We'll see.
"I don't really think about the points and the gaps and the possibilities in the next race. As long as we come out with a bigger lead after the next race I think we have done a good job."
Team boss Christian Horner, whose team dominated the race at Monza, believes Singapore will be a very tough challenge for the team despite its current form.
"Maybe we should run with no downforce, because it worked at Monza," joked Horner. "It's a completely different challenge, it's the bumpiest, toughest track on the calendar coming up, physically demanding, hot, more corners than any circuit so its going to be a big challenge.
"It's high downforce. We finished a very close second to Fernando Alonso last year. It's a race we haven't won and one we would dearly love to.
"The weather can be inclement there, we haven't had a wet race there which has been remarkable. Ideally we would achieve the same result as Monza, but we will go there and attack the race."
He added: "The RB7 was so effective at Monza I think because of the amount of effort that was put into the low downforce configuration.
"It's a track that, when we were planning for the year, we decided 'right lets put an awful lot of effort into Monza, come up with something bespoke for the venue. The aerodynamic group have done a phenomenal job. Of course we went highly aggressive in our set-up and our choice of gear ratios for the race itself."