Red Bull dedicates win to former member staff member Erin Pezzella
| | |
| --- | --- |
| By Jonathan Noble | Sunday, September 11th 2011, 16:05 GMT |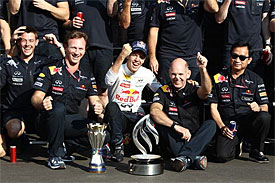 Red Bull Racing has dedicated its victory in the Italian Grand Prix to former staff member Erin Pezzella, who lost her battle against cancer earlier in the week.
Sebastian Vettel moved a major step closer winning the world title with a dominant victory at Monza on Sunday - and the result means he can now clinch the title in the next race at Singapore.
Team principal Christian Horner was delighted with the result, especially as it came on a track that was not expected to play to Red Bull Racing's strengths, and afterwards paid tribute to Pezzella.
"Earlier this week we lost a young girl who worked for the team for five years in accounts," said Horner.
"She was 31 years of age and she lost a very brave fight against cancer, so as a team we would like to dedicate this to her today. It puts everything into perspective."
Although there had been much focus ahead of the race about the gear ratio choice opted for by Red Bull Racing, Horner said the outfit was more confident about its pace in the GP that it had been for qualifying.
"We felt that the hit was potentially in qualifying when you can use the DRS all the time, whereas for the race we thought we were better placed," said Horner. "That ultimately proved to be the case, even dropping behind Fernando, who we knew was pretty quick on the straight, Seb still managed to make it work. I think it was absolutely the right thing to do in the end."
He added: "It was an unbelievable day. Fernando [Alonso] had an awesome start and looked like he was only ever going to be the leader out of the first chicane. Sebastian was already pressuring him before the safety car and for anybody that doubted if he could overtake or not, I think he demonstrated it very clearly today with a very brave move, with two wheels on the grass. He made it stick – got his head down and had tremendous pace.
"It was a very, very well executed race strategy wise, pit-stop wise and from Seb himself. It is phenomenal for the team for the team and Red Bull to win in Monza."