Q & A with AUTOSPORT 6 Hours of Silverstone polesitter Simon Pagenaud
| | |
| --- | --- |
| By Sam Tremayne | Saturday, September 10th 2011, 19:47 GMT |
Simon Pagenaud only received a late call-up to compete at the AUTOSPORT 6 Hours of Silverstone after Anthony Davidson failed to recover from the injuries caused in his bike accident.
The Frenchman had also never been to Silverstone, and was faced with tricky weather conditions as rain fell infrequently during qualifying.
Despite such disadvantages Pagenaud was in scintillating form as he secured pole position for Peugeot, his 1m43.924s effort almost 1s clear of the rest of the field.
Q. Given the late call-up, what was your mentality coming into the weekend? How do you prepare yourself on short notice?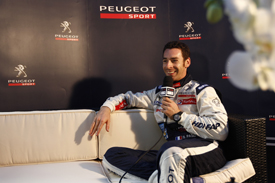 Simon Pagenaud: Every driver has their own way of getting ready for race weekends. Obviously this season for me has been a lot of late calls, so I am kind of getting used to it. I think I have improved a lot the way I adapt to a situation, it's probably a quality I have now that wasn't the case before. So this season has been preparing me for the kind of situation we see this weekend, and I'm just kind of perfecting it in a way.
Obviously I don't wish anybody to have any harm, so it's not always lucky. As soon as Anthony had his accident though I knew I was the replacing driver in case he didn't recover, so I prepared myself mentally, tried to get used to the track...
Q. Having never been here before, were you confident you could challenge for pole?
SP: Yeah, as a driver you just need to gather all your thoughts together, know that you can do a job and have a lot of confidence in yourself.
Obviously the team put me in a good position. I knew that the car was good, I knew what I had to do - just go for it. It was a good qualifying in a way because we had to be smart with the weather, understand what it was doing.
Q. What was your understanding of the weather?
SP: We had this big cloud coming in, so my first thought was get out and do your lap; that was it. I thought it was going to rain. It did actually rain on my out-lap, I had a few moments testing the grip limits and making a lot of mistakes, but actually that helped me get temperature in the tyres. I think that really helped when the rain stopped.
Q. Effectively you all had a one-lap shot?
SP: Yes. It was raining on my first lap, I was being cautious, testing the limits and so on, but then the next lap it dried really quickly. I didn't see any sprinklings so I went for it.
Q. How strong do you think Audi will be in the race?
SP: You know, I wouldn't read too much into the lap times today - Audi is always very close to us and us to them, and it will continue like that. That is a general trend for this season; it is great for the fans and the show. When I pulled it in it started to rain harder, and I didn't think I could improve my time. I came back in to save fuel and tyres, thinking that I could go back out if it stopped. But then it was too late for Audi to go back out.
Q. Given the rain situation, at what point could you celebrate?
SP: I don't like celebrating before the chequered flag, I don't want to curse it or bring bad luck. So I waited, waited and finally when I saw the Audi was still in the pits I knew it was done. Again, it's only qualifying so I don't want to celebrate too much: it was nice, but the race is what we concentrate on.