Andreas Mikkelsen holds on to Mecsek Rally lead as Jan Kopecky closes
| | |
| --- | --- |
| | Saturday, September 10th 2011, 17:59 GMT |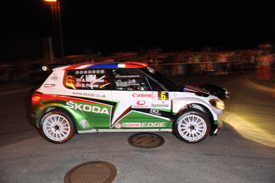 Andreas Mikkelsen's Mecsek Rally lead is down to just eight seconds over Jan Kopecky after the Czech driver launched a determined attack through Saturday's final three stages.
The second run through Alsomocsolad - which should have happened later tonight - was cancelled due to the spectator issues seen there in the morning, meaning the leg concluded with SS7. Works Skoda driver Kopecky was quickest on all three stages that did take place, allowing him to reduce Mikkelsen's lead from 14 seconds at the midday service to 8.7s overnight.
"Andreas was very quick in the morning so we lost a lot of time. Now we are trying to catch it back," said Kopecky at the end of SS7. "Tomorrow I think we'll need to push a lot from the morning."
Mikkelsen felt he had lost some time when he had to slow for Guy Wilks' stranded car on SS5, and that being three places behind Kopecky in the start order on the increasingly dark SS7 had also been a disadvantage.
"Now it was very dark, I think Jan had a little brighter conditions so could see a bit more," said the Skoda UK driver at the end of the day. "I took no big risks and tried to keep a steady pace.
"There's a long way to go. It will be a good fight I think."
Kopecky had started the rally in a close battle with Thierry Neuville (Kronos Peugeot) and Freddy Loix (BFO Skoda), but neither were able to keep up with his pace this afternoon. They are now third and fourth, 21.4s and 32.7s off the lead respectively, with Loix in particular surprised that his times were so far off the pace on SS5 to SS7.
Behind them, both Wilks and Frigyes Turan retired on SS5 - Wilks with an engine problem on his Peugeot and Turan after crashing his Ford. That elevated Bryan Bouffier's PH Peugeot to a distant fifth. He has now moved slightly ahead of top local driver Gyorgy Aschenbrenner, who is delivering one of the most competitive performances for a Production car in the Intercontinental Rally Challenge this year.
Leading positions after SS7:

Pos  Driver                Team/Car                Time/Gap
 1.  Andreas Mikkelsen     Skoda UK              1h06m41.6s
 2.  Jan Kopecky           Skoda                     + 8.7s
 3.  Thierry Neuville      Kronos/Peugeot Belux     + 21.4s
 4.  Freddy Loix           BFO Skoda                + 32.7s
 5.  Bryan Bouffier        PH Peugeot             + 1m20.9s
 6.  Gyorgy Aschenbrenner  Martevo Mitsubishi     + 1m29.0s
 7.  Toni Gardemeister     TGS Skoda              + 1m46.6s
 8.  Robert Butor          M3 Auto Peugeot        + 1m52.8s
 9.  Hermann Gassner Jr    Red Bull Skoda         + 1m58.2s
10.  Norbert Herczig       Skoda Hungary          + 2m06.3s