Gear ratio key in Vettel's victory chances at the Italian Grand Prix
| | |
| --- | --- |
| By Jonathan Noble | Saturday, September 10th 2011, 17:41 GMT |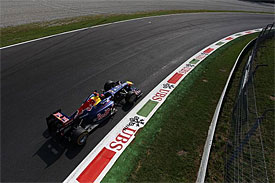 Sebastian Vettel's hopes of winning the Italian Grand Prix will almost certainly depend on him being able to make a clean break at the front of the field in the early stages of the race, reckon his main rivals.
Although Vettel caused a surprise by qualifying on pole position by almost half a second, his rivals are optimistic that the fight for victory is far from over because of the gear ratio choice that the German has taken.
Onboard footage and straight-line speed figures from qualifying suggest that Vettel has almost certainly opted for a shorter gear ratio than his main opposition - which could leave him exposed if he comes under threat from rivals in the DRS zones.
Vettel was slowest of all through the Monza speed trap before the first corner – with his 327.7 km/h figure comparing to Fernando Alonso's 342.2 km/h, Mark Webber's 336.1 km/h, Jenson Button's 333.1 km/h and Lewis Hamilton's 332.7 km/h
The maximum speed that is measured just before the finish line, shows Vettel is already slower than his rivals there – with him recording 316.6 km/h in qualifying, compared to Michael Schumacher's 323.5 km/h, Alonso's 321.3 km/h, Button's 319.4 km/h and Hamilton's 318.4 km/h.
Those figures have delivered encouragement for his rivals, who believe that Vettel will not only face a hard time defending the lead if he does not build up more than a one-second cushion at the DRS zone, but also that he will be unable to make the best use of DRS to overtake his rivals if he is behind.
Ferrari technical chief Pat Fry said: "Vettel is running on the limiter for 400-500 metres. So he has a very short gear, and if you look at the overlays, he is a match to us before he hits the limiter.
"That is the choice you make. When you are not using the DRS you will have a better gear ratio choice, and by the look of it Mark has got a longer gear in the car."
Button said: "I think if you look at the two cars of Mark and Sebastian, I think you see the one who was confident going into qualifying.
"I think Seb expects to lead from the front and not have the issue of trying to overtake anyone. If he is in the DRS zone then he will be on the limiter for the whole straight because he is at 327 km/h the whole straight.
"It is a gamble, especially as we are behind him, and I think he will be quick in the race. But if we can get the jump on him, then I think it will be tough for him."
Hamilton is even more encouraged by the situation, reckoning that McLaren has the chance of scoring a 1-2 finish in the race if they can put some pressure on Vettel.
When asked why he felt like that, Hamilton said: "It is just optimism. It is because clearly we have been strong all weekend, we have clearly had quite good long run pace and Jenson is in P3 and I am in P2, and there is only one step for both of us to do.
"I think starting here from pole isn't the best place to start from, I think we are in the best position because it is such a long run down to Turn 1, and we have a strong team behind us and we are quick. There is no reason why tomorrow we cannot compete with the Red Bulls."
Hamilton insisted, however, that he would not be taking any big risks in the race – because he felt he was still in contention for the title.
"We are still fighting for the championship," he said. "I don't want to take any chances. Hopefully we will get a good start, we are in the best position to still fight but again Jenson started quite far back in the last race and showed it is a long, long race and lots can happen.
"Regardless of whether we get the best start of not, we will still be in a fight until the end, so that is the plan."