Simon Pagenaud puts Peugeot on pole for AUTOSPORT 6 Hours of Silverstone
| | |
| --- | --- |
| By Sam Tremayne | Saturday, September 10th 2011, 13:36 GMT |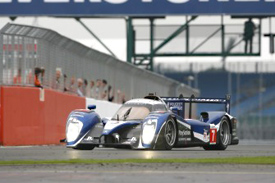 Simon Pagenaud earned Peugeot pole position for the AUTOSPORT 6 Hours of Silverstone in tricky qualifying conditions.
Spots of rain threatened at the start of the session, prompting the LMP field to attack from the outset. Pagenaud and Stephane Sarrazin traded times in the #7 and #8 Peugeots, before the former pulled clear with a 1m43.943s effort.
Allan McNish was the first to reply in the #2 Audi R18, moving to within nine tenths of Pagenaud and then setting the overall fastest sector two time on his next tour, only to then meet traffic in the final third of the lap.
Rain then fell and effectively looked like bringing the session to a premature close - with Peugeot calling both drivers in and hesitantly beginning celebrations.
McNish opted to stay out for one more lap, and as the rain began to ease looked well poised. The session had been declared wet meaning tyre choices were free, and with Peugeot's charges halted Audi strapped fresh rubber to McNish's car and weighed up a final push.
The decision was taken away from them as the time ticked down however, although several cars did go out and made substantial gains.
Nicolas Prost in the #12 Rebellion was one of the beneficiaries, rising to fifth overall - behind the #8 Peugeot and #1 Audi.
Danny Watts made gains to go fastest in LMP2 in the #42 Strakka HPD, while Tom Kimber-Smith also improved late on to take second for the #41 Greaves Motorsport squad.
Across in the GTE Pro class, which had qualified earlier and therefore avoided the drama of the rain, BMW executed a perfect session as they locked out the front row of the grid and left their rivals no time or chance to respond.
Neither car had turned a wheel with seven minutes of the session remaining, but one lap each in the final minutes proved all that was needed.
Augusto Farfus led the charge in the #56 M3, storming to a 2m01.768s - at the time putting him almost 1s clear of an otherwise extremely close field. Andy Priaulx then took his turn, falling 0.3s short but still comfortably securing second. He was on a faster second lap when he hit traffic, and opted to return to the pits.
Before BMW's emphatic late display, the top six cars had been separated by just 0.227s. Toni Vilander put the #71 AF Corse Ferrari 458 top ahead of Marc Lieb in the #77 Felbermayr Porsche 911, but the pair will now start third and fourth in the Pro class.
As has been the case all weekend, the battle for the GTE Am class was fought between the Porsches. Nicolas Armindo claimed the top spot as the flag fell, putting his #67 IMSA 911 two tenths clear of the #63 Proton 911 qualified by Patrick Long.

Pos  Cl     Drivers                      Team/Car                     Time       
 1.   LMP1   Bourdais/Pagenaud            Peugeot                     1m43.924s
 2.   LMP1   Kristensen/McNish            Audi                        1m44.856s
 3.   LMP1   Montagny/Sarrazin            Peugeot                     1m45.102s
 4.   LMP1   Bernhard/Fassler             Audi                        1m46.621s
 5.   LMP1   Prost/Jani                   Rebellion Lola-Toyota       1m47.684s
 6.   LMP1   Lahaye/Moreau/Ragues         Oak Pescarolo-Judd          1m47.785s
 7.   LMP1   Nicolet/Premat/Pla           Oak Pescarolo-Judd          1m47.890s
 8.   LMP1   Belicchi/Boullion            Rebellion Lola-Toyota       1m48.287s
 9.   LMP1   Collard/Tinseau/Jousse       Pescarolo-Judd              1m48.624s
10.   LMP2   Leventis/Watts/Kane          Strakka HPD                 1m49.619s
11.   LMP2   Ojjeh/Kimber-Smith/Lombard   Greaves Zytek-Nissan        1m50.922s
12.   LMP1   Fernandez/Primat/Klien       AMR Lola-Aston              1m52.151s
13.   LMP2   Beche/Thiriet/Firth          TDS ORECA-Nissan            1m52.224s
14.   LMP2   Frey/Meichtry/Rostan         Race Performance ORECA-Judd 1m52.457s
15.   LMP2   Mailleux/Ordonez/Vernay      Signatech ORECA-Nissan      1m53.233s
16.   LMP2   Kraihamer/Ebbesvik           Boutsen ORECA-Nissan        1m53.247s
17.   LMP2   Companc/Russo/Kaffer         Pecom Lola-Judd             1m53.791s
18.   LMP2   Newton/Erdos/Collins         RML HPD                     1m55.236s
19.   LMP2   Barlesi/da Rocha/Lafargue    Oak Pescarolo-Judd          1m57.817s
20.   FLM    Hartshorne/Keating/Keen      Neil Garner FLM             1m58.143s
21.   FLM    Marcelli/Ducote/Moro         JMB FLM                     1m59.053s
22.   FLM    Mitchell/Grogor/Kronfli      Genoa FLM                   1m59.907s
23.   FLM    Schultis/Simon/Schell        Pegasus FLM                 2m00.061s
24.   GTE-P  Farfus/Muller                BMW                         2m01.768s
25.   GTE-P  Priaulx/Alzen                BMW                         2m02.096s
26.   GTE-P  Melo/Vilander                AF Corse Ferrari            2m02.744s
27.   GTE-P  Lieb/Lietz                   Felbermayr Porsche          2m02.787s
28.   GTE-P  Ortelli/Makowiecki           Luxury Ferrari              2m02.934s
29.   GTE-P  Pilet/Henzler                IMSA Porsche                2m02.937s
30.   GTE-P  Goossens/Holzer              Prospeed Porsche            2m02.950s
31.   GTE-P  Fisichella/Bruni             AF Corse Ferrari            2m02.971s
32.   GTE-P  Bell/Walker                  JMW Ferrari                 2m03.118s
33.   GTE-P  Broniszewski/Peter           Kessel Ferrari              2m03.295s
34.   GTE-P  Hancock/Dolan/Buncombe       Jota Aston Martin           2m03.433s
35.   GTE-P  Jakubowski/Beltoise/Marroc   Luxury Ferrari              2m03.659s
36.   GTE-P  Farnbacher/Simonsen          Farnbacher Ferrari          2m03.864s
37.   GTE-A  Narac/Armindo                IMSA Porsche                2m04.028s
38.   GTE-A  Roda/Long                    Proton Porsche              2m04.172s
39.   GTE-A  Ehret/Lynn/Wills             CRS Ferrari                 2m04.427s
40.   GTE-A  Krohn/Jonsson/Rugulo         Krohn Ferrari               2m04.987s
41.   GTE-A  Perazzini/Cioci/Lemeret      AF Corse Ferrari            2m05.103s
42.   GTE-P  Rossiter/Mowlem/Wendlinger   Jetalliance Lotus           2m05.143s
43.   GTE-A  Felbermayr/Ried              Felbermayr Porsche          2m06.392s
44.   GTE-A  Giroix/Goethe/Wainwright     Gulf Aston Martin           2m06.976s
45.   GTE-P  Lichtner-Hoyer/Rich/Hansson  Jetalliance Lotus           2m07.831s
46.   GTE-A  Hummel/Christodoulou/Quaife  CRS Ferrari                 2m13.219s
47.   LMP1   Cortes/Geri/Picini           MIK Zytek                   -
48.   LMP2   Gates/Hughes/Garofall        RLR MG Lola-Judd            -
49.   GTE-A  Bornhauser/Canal/Gardel      Larbre Corvette             -