Montezemolo not against pay TV for Formula 1 coverage
| | |
| --- | --- |
| By Jonathan Noble | Saturday, September 10th 2011, 13:15 GMT |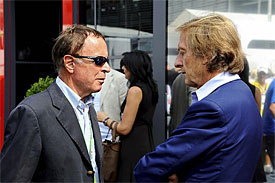 Formula 1 should not be afraid of looking at further pay TV opportunities in the future, even if it means that fans are not able to watch every race live without paying for it.
That is the view of Ferrari president Luca di Montezemolo, who believes that shared broadcasting deals, like that agreed between the BBC and Sky, are not of too much concern for him as long as the sport never switches exclusively to subscription-only networks.
Instead, he thinks more effort should be put into expanding opportunities offered by the Internet.
"It is crucial, the new media in F1," he explained. "iPad, I think Internet, these can represent a huge environment for the future, in parallel with an F1 that is becoming a worldwide sport. So I think there is a big room to be improved with the new media and this is important for us, and it is a big challenge for F1.
"Regarding pay and live [TV], I think that a mix is good. I think that this could represent a good mix in the future. For me it is crucial to have more people in the circuit and this is why we have to promote, we have to look very carefully at the price, look very carefully at the logistics. But I think a mix between pay TV and live TV will be the future - but a mix."
Di Montezemolo also thinks that some efforts should be made into ensuring that there are more spectators at race, and that they are not priced out of F1.
"This year we have races that some times have gone too far, but are more unpredictable and with more possibility to overtake - this was a weak point in the past.
"I think it is good to find something in the middle because sometimes the spectators are confused, they don't understand that a car comes out of the pits in certain positions. Having said that, we did do a step forward.
"The problem is that in my opinion you want a right balance for the people in front of the television and the people at the circuit. For me, for Ferrari, the circuits are crucial - I want to see spectators, I want to see passion, I want to see flags. So it is question to find a good balance in terms of price.
"I said a few years ago we have to be careful because with the low fares on airplanes, you can do a tour of the world with less money than a weekend at the circuit. This is something that we have to have very clear in front of us. Having said that, you will see on Sunday a lot of people here."