Peugeot stay on top as Sarrazin sets new benchmark in AUTOSPORT 6 Hours practice
| | |
| --- | --- |
| By Sam Tremayne | Saturday, September 10th 2011, 09:18 GMT |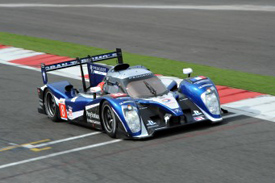 Peugeot completed a clean sweep of AUTOSPORT 6 Hours practice as Stephane Sarrazin set a new benchmark in a truncated final session at Silverstone.
Despite cooler conditions and two red flag periods - one of them causing a 30 minute delay - Sarrazin was able to set the fastest lap so far this weekend, a 1m44.879s.
For a while that was more than two seconds clear of everyone but Timo Bernhard in the #1 Audi R18, but with just three minutes the remaining 908 hammered home Peugeot's dominance as Simon Pagenaud put the #7 into second, 0.136s down the road.
Bernhard got within six tenths of the ultimate pace, but the sister #2 Audi of Tom Kristensen and Allan McNish, which finished fourth fastest, was 2.2s in arrears.
Julien Jousse had put the #16 Pescarolo third fastest with 15 minutes to go, but he dropped to fifth as Audi and Peugeot made improvements late on.
It was a session to forget for the hybrid #23 MIK Corse Zytek, in which Maximo Cortes went off at Vale and speared heavily into the barriers at the pit entry ten minutes in. The crash needed 30 minutes of repairs before the circuit was passed safe again.
In LMP2, Karim Ojjeh and Tom Kimber-Smith sealed top spot for the #41 Greaves Motorsport Zytek. Victory this weekend would hand them the 2011 drivers' crown.
Danny Watts rose into second with his final flyer in the #42 Strakka HPD, little more than two tenths of a second down the road. The #46 TDS ORECA-Nissan was just 0.040s behind, third in class.
Rob Bell was another late improver, snatching top spot in GTE Pro for the #66 JMW Motorsport Ferrari 458.
BMW took second and third, the #56 of Alzen Uwe and Andy Priaulx ahead of the #55 of Augusto Farfus and Jorg Muller.
The #71 AF Corse Ferrari 458 had set the pace for much of the session, but dropped to fourth in the final three minutes.
Across in GTE Am Porsche again set the pace, with the #67 IMSA 911 heading the #63 Proton.

Pos  Cl     Drivers                      Team/Car                    Time       

 1. LMP1   Montagny/Sarrazin            Peugeot                     1m44.879s
 2. LMP1   Davidson/Bourdais/Pagenaud   Peugeot                     1m45.015s
 3. LMP1   Bernhard/Fassler             Audi                        1m45.420s
 4. LMP1   Kristensen/McNish            Audi                        1m47.079s
 5. LMP1   Collard/Tinseau/Jousse       Pescarolo-Judd              1m48.436s
 6. LMP1   Prost/Jani                   Rebellion Lola-Toyota       1m48.559s
 7. LMP1   Belicchi/Boullion            Rebellion Lola-Toyota       1m48.563s
 8. LMP1   Lahaye/Moreau/Ragues         Oak Pescarolo-Judd          1m49.063s
 9. LMP1   Nicolet/Premat/Pla           Oak Pescarolo-Judd          1m49.619s
10. LMP2   Ojjeh/Kimber-Smith/Lombard   Greaves Zytek-Nissan        1m50.711s
11. LMP2   Leventis/Watts/Kane          Strakka HPD                 1m50.949s
12. LMP2   Beche/Thiriet/Firth          TDS ORECA-Nissan            1m50.989s
13. LMP2   Kraihamer/Ebbesvik           Boutsen ORECA-Nissan        1m51.199s
14. LMP1   Fernandez/Primat/Klien       AMR Lola-Aston              1m51.337s
15. LMP2   Newton/Erdos/Collins         RML HPD                     1m53.289s
16. LMP2   Mailleux/Ordonez/Vernay      Signatech ORECA-Nissan      1m54.347s
17. LMP2   Gates/Hughes/Garofall        RLR MG Lola-Judd            1m54.805s
18. LMP2   Companc/Russo/Kaffer         Pecom Lola-Judd             1m55.072s
19. LMP2   Frey/Meichtry/Rostan         Race Performance ORECA-Judd 1m55.503s
20. FLM    Hartshorne/Keating/Keen      Neil Garner FLM             2m01.909s
21. FLM    Marcelli/Ducote/Moro         JMB FLM                     2m02.425s
22. GTE-P  Bell/Walker                  JMW Ferrari                 2m02.655s
23. GTE-P  Priaulx/Alzen                BMW                         2m02.926s
24. GTE-P  Farfus/Muller                BMW                         2m03.146s
25. GTE-P  Melo/Vilander                AF Corse Ferrari            2m03.557s
26. FLM    Schultis/Simon/Schell        Pegasus FLM                 2m03.634s
27. GTE-P  Goossens/Holzer              Prospeed Porsche            2m03.831s
28. GTE-P  Farnbacher/Simonsen          Farnbacher Ferrari          2m03.942s
29. GTE-P  Lieb/Lietz                   Felbermayr Porsche          2m04.199s
30. GTE-A  Narac/Armindo                IMSA Porsche                2m04.488s
31. GTE-P  Ortelli/Makowiecki           Luxury Ferrari              2m04.454s
32. GTE-A  Roda/Long                    Proton Porsche              2m04.871s
33. GTE-P  Fisichella/Bruni             AF Corse Ferrari            2m04.986s
34. GTE-A  Perazzini/Cioci/Lemeret      AF Corse Ferrari            2m05.172s
35. GTE-P  Pilet/Henzler                IMSA Porsche                2m05.499s
36. GTE-P  Broniszewski/Peter           Kessel Ferrari              2m05.541s
37. GTE-A  Ehret/Lynn/Wills             CRS Ferrari                 2m06.030s
38. GTE-A  Krohn/Jonsson/Rugulo         Krohn Ferrari               2m06.147s
39. GTE-P  Jakubowski/Beltoise/Marroc   Luxury Ferrari              2m06.836s
40. GTE-P  Hancock/Dolan/Buncombe       Jota Aston Martin           2m07.127s
41. GTE-A  Giroix/Goethe/Wainwright     Gulf Aston Martin           2m07.563s
42. GTE-A  Felbermayr/Ried              Felbermayr Porsche          2m07.731s
43. GTE-P  Rossiter/Mowlem/Wendlinger   Jetalliance Lotus           2m08.389s
44. GTE-A  Hummel/Christodoulou/Quaife  CRS Ferrari                 2m08.620s
45. GTE-A  Bornhauser/Canal/Gardel      Larbre Corvette             2m09.524s
46. GTE-P  Lichtner-Hoyer/Rich/Hansson  Jetalliance Lotus           2m09.778s
47. FLM    Mitchell/Grogor/Kronfli      Genoa FLM                   2m10.105s
48. LMP1   Cortes/Geri/Picini           MIK Zytek                   -
49. LMP2   Barlesi/da Rocha/Lafargue    Oak Pescarolo-Judd          -