Clint Bowyer concerned he could lose his Richard Childress Racing seat
| | |
| --- | --- |
| By Diego Mejia | Saturday, September 10th 2011, 03:11 GMT |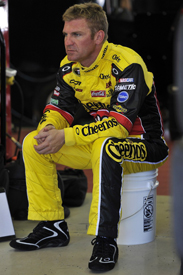 Clint Bowyer might not return to Richard Childress Racing in 2012, and admits it would be "heartbreaking" to leave the team at the end of the season.
Bowyer, a Chase contender in three out of his five full seasons in the Sprint Cup Series, has yet to secure a deal for next year despite indicating a few weeks ago that a new multi-year agreement with his team was close to being set in stone. However, talks over the specifics of the deal have not progressed as expected and the continuity of their relationship looks now uncertain.
His boss Richard Childress left the door open to Bowyer driving elsewhere next season in an interview with America's Sirius XM NASCAR Radio this week while Bowyer, speaking at Richmond ahead of the final race of the regular season, admitted he is currently under pressure to get his future sorted.
The 32-year-old is currently 14th in the points standings and following an incident at the previous race in Atlanta, he has all but conceded his Chase hopes are over, although mathematically he is still in with a chance.
"There's a lot of pressure," said Bowyer. "Unfortunately it all comes together at once. It would have been nice to have the future out of the way three months ago, but it's just not the case. It's tough in today's world and you've got to be tough as well. You've just got to get through it and it is what it is.
"I am glad in a way it was a breath of fresh air last week because obviously that Chase is important to me. Going to the banquet and being a part of Champion's Week is important to me. I've been there. It's exciting and you want to be a part of it. But it isn't the end of the world. There's a lot of future left in me. I believe in this sport and hopefully it's right."
Bowyer has been a fixture at RCR since he first competed in NASCAR's second-tier series in 2004, claiming a Nationwide Series title and four Cup wins since then, and finishing a career-high third in the standings in only his second full season at NASCAR's top level in 2007.
He admits it would be sad to leave the outfit that gave him the biggest break of his racing career, but he hinted that it is time to make the decision to move on eventually.
"Oh, it would be heartbreaking; a tough deal," he said when asked about possibly leaving RCR. "That's family to me and it means a lot to me. I don't forget where I was standing when I got a phone call to get me this opportunity and change my life. It would be big. But the world goes on.
"You have to make decisions and those are performance-driven, business-driven, life, family, everything. It's just a lot of decisions you go through and everybody goes through those in life. Us racers are no different."
Last year Bowyer won twice during the Chase, starting the play-off with a victory at Loudon despite his car failing a post-race inspection and costing him a chance to be in closer contention for the title. This year he has yet to score his first win.