Jules Bianchi blames handling on lowly race one grid slot at Monza
| | |
| --- | --- |
| By Glenn Freeman | Friday, September 9th 2011, 19:20 GMT |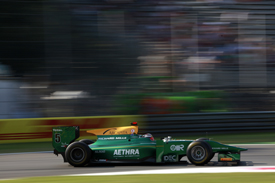 Jules Bianchi has revealed that his lowly grid position for the first GP2 race of the weekend at Monza was down to a surprising change in the handling of his car from free practice to qualifying.

The Frenchman sits just one point behind Giedo van der Garde in the battle for second in the championship heading into this weekend, but he was unable to capitalise on the Dutchman's poor session and will instead line up alongside him on the 10th row of the grid.

But while van der Garde blamed traffic for his failure to set a quick time, Bianchi said he could not understand why his ART car felt so different after he had managed the fourth quickest time in free practice.

"I don't know what happened," Bianchi told AUTOSPORT. "In the morning the car felt really good, and I was confident that I would be in the top five.

"We made some small changes for the afternoon, and the track was hotter, but suddenly it didn't feel like the same car. I had lots of understeer, and we couldn't get it to work."

Bianchi acknowledged that all was not lost as passing is possible at Monza, but he added that being at the back of the pack will be a nervy experience in the early stages of the race.

"It's really strange, and this is a really bad time for this to happen," he said. "Maybe we can come through to the points from where we are, but there is a much bigger risk of crashing at the start now so I will have to be careful."