Kubica set to test in simulator or high-performance car
| | |
| --- | --- |
| By Jonathan Noble and Simon Strang | Friday, September 9th 2011, 16:23 GMT |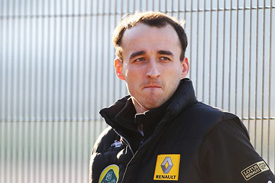 Robert Kubica is set to get back behind the wheel of either a high-performance car or a simulator within the next month, amid growing confidence from those close to him that he will be able to make a comeback in Formula 1.
The Polish driver is still recovering from serious injuries he suffered in a rally crash in February, and had a final operation on his elbow just two weeks ago.
And with positive news coming about Kubica's rehabilitation, his manager Daniele Morelli said at Monza on Friday that he expected a test in either a car or simulator soon.
"In October we consider that Robert can put a helmet on his head just to give a message of what he will be capable to do," Morelli told reporters inside the Renault motorhome.
"We are not talking of course of Formula 1 right away, but it is important that Robert can start to drive. Whether it is a simulator or a road car on a race track this is not really important - the important thing is the final step is achieved from a certain point of view."
Morelli said that the news after his operation, which took place on the Sunday of the Belgian Grand Prix, was very encouraging.
"Two weeks ago we had the very last operation which was for us a kind of little threat," he explained.
"There were several question marks over the outcome, but fortunately the operation went well and Robert, the day after the operation, could right away move his elbow with I would say almost a normal movement. That is a fundamental act for the recovery of all the functions of his right arm.
"Having said that, it was a very important step because now Robert has started I would say, the final part of his recovery because he can now move his right arm in an active way, that means all the muscles that haven't been working for several months and were in a very bad situation and have a lack of strength.
"Now the recovery is focussed on the strength and day-after-day Robert is increasing the strength of his right arm, wrist, fingers and all the parts that were affected."
Morelli said that such had been the progress that he now was convinced that Kubica will be fit enough to return to F1 – with Renault having reassured him that a place will be made available when the Pole is ready.
"We don't have now anymore concern about the final outcome of the recovery of Robert in general. Of course we must be positive and it is important to be positive in this kind of situation – but Robert is working really, really hard. You know him, he is a hound!
"The doctors and the physiotherapists must tell him to slow down sometimes because he is doing too much. But it is better to slow him down rather than the opposite way around. So am I here to say that we have good news.
"We still need nature to do its work because we have the nerves that still must complete their recovery, but we do not have any concrete obstacle. It is just a question of time."
He added: "Robert is a Formula 1 driver so if he can drive a Formula Renault car, he can drive an F1 car. F1 cars nowadays are not physically demanding, so I would say it is probably more complicated to drive a GP2 than an F1 car."