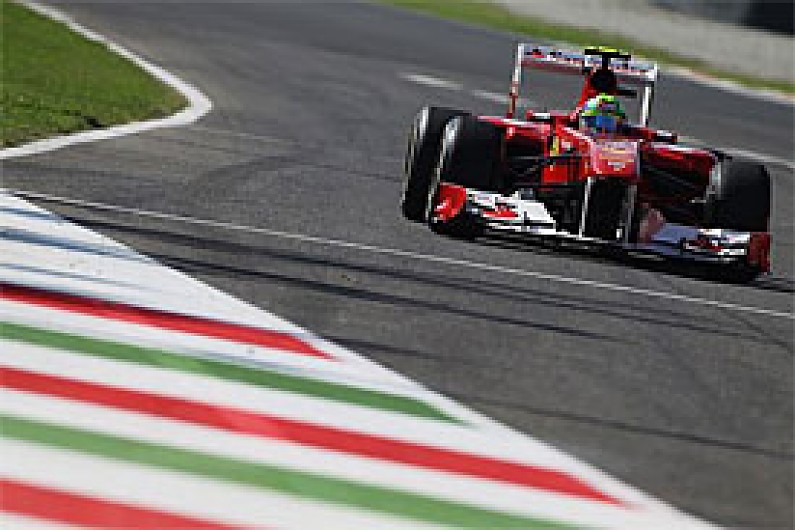 Formula 1 drivers and teams are set to face a major headache this weekend working out the best approach for downforce levels at Monza, thanks to the use of a double DRS zone at the Italian track.
In the past Monza has simply been about running with the least amount of downforce and drag that you can get away with.
That situation changed last year when the use of F-ducts allowed some drivers, notably Jenson Button, to run with higher downforce levels because they could reduce the drag on the straights.
For this year, thanks to DRS, there is even more temptation to opt for higher downforce levels because the wings can be opened for qualifying - minimising drag down the straights.
However, the fact that DRS is limited to two areas of the track in the race, and even then can only be used when the driver is just one second behind the car in front him, means having a high downforce level could hurt race pace.
Teams are currently evaluating whether it is best to have the wing settings better for qualifying or the race - but there already appears to be big variations among teams on the size of their rear wings.
Mercedes GP team principal Ross Brawn expects differences in performance between those opting for the better qualifying route and those choosing to be better prepared for the race.
"Interestingly because of the use of DRS constantly in qualifying, the optimum wing setting is probably different in qualifying than it is for the race," he explained.
"So it is a question of, do you run more wing and because of the DRS you are okay in qualifying, but then in the race, because you don't have DRS you are going to suffer a bit?
"It is quite a complex judgement call, so probably we will see bigger variances this year than we might have seen in previous years when everyone hones in on a small area. Because of this variation of what is optimum for qualifying and what is optimum for the race we will see quite a lot of variation. We are not certain which way we will go yet."
Lewis Hamilton believes that it would be tough working out how best to set the car up for the lap - and that it would not be easy getting the most out of DRS.
"Generally, there is obviously a limit as to how low you can go," he said. "We are trying to find downforce, but there is a certain point we can go without designing a completely new rear wing - we will see.
"But there will be a point where the DRS doesn't make much difference, but there is a balance being quick enough in the middle sector - and being fast in the right gears. It's not an easy balance but we will do better than we did at the last race."
Drivers are also eager to see just what impact the double DRS zones, which are independent of each other, will have on the racing.
World championship leader Sebastian Vettel predicts there will be a changed approach to racing at Monza because of the way that overtaking should now be much easier.
"I think the zones are fine, I think probably down to Ascari...it is probably a bit tricky," he said. "It's quite narrow there, especially on the first laps of the grands prix when you are looking at the other cars. We will see how big the effect is of the DRS.
"We have had races where you just open the wing and drive past no problem and others where it doesn't really help you to overtake. I think with the DRS regards we have to take this year as a learning year - we are much better already than the beginning of the season.
"But still every circuit is different and for next year we will know after this Sunday whether the zones are correct and the length especially if it is right."
New season.
New rules.
New cars.
New drivers.
Get ready for an F1 season like no other with unlimited access to the world's best motorsport journalism.
Get 10 free extra stories
Upgrade for free - and boost your monthly news limit instantly.
Register for free
Expert opinion.
Technical insight.
Unbeatable analysis.