Q & A: Sebastien Loeb explains his Rally Australia crash
| | |
| --- | --- |
| By David Evans | Friday, September 9th 2011, 07:18 GMT |
World Rally champion Sebastien Loeb crashed out of Rally Australia while leading this morning - the first incident of what was to prove a chaotic day for the WRC field.
Afterwards the points leader spoke exclusively to AUTOSPORT to explain his rare mistake.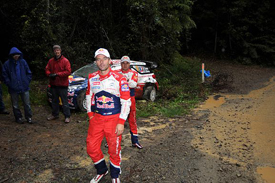 Q. What exactly happened?
Sebastien Loeb: I saw the split time on the dash. I just saw it. Sometimes I see the split times and sometimes I don't. Usually I wait for Daniel [Elena, co-driver] to tell me. Daniel was telling me a [pace] note and I was waiting until he had finished the note to tell him: "It's okay, I have seen the split."
I don't know why, but I wanted to tell him I had seen it and he didn't have to tell me. Just at this time, when I told him, I was a little bit not concentrating. It was at the entry to the corner, I was a bit too fast. I hit the bank at the exit and we rolled.
Q. The corner was tightening?
SL: It was a fourth-gear corner braking to a second-gear corner 30 metres later.
Q. Having seen the onboard footage, the car seems to roll a lot of times - how fast were you going?
SL: It's not so fast. It was just brutal. I hit the rear in the bank and it threw the front and threw us into the air for a quick roll. It was maybe 90 [km/h] or something like this.
Q. This seems quite an unusual reason for an accident. Is it the most unusual?
SL: I don't know. I remember the crash in Greece [in 2009] was because I was correcting a note and this one was because I was telling Daniel something. It's because of not concentrating.
Q. Do you think you can carry on?
SL: I think it should be okay. They [the FIA] are just looking now, but it seems not bad. But sometimes there can be something which I didn't see.
Q. It's important to come back and fight for the powerstage points?
SL: For sure, it's the only thing we can hope for. We will see what we can do.