Ford aiming for victory in all the remaining rallies of 2011
| | |
| --- | --- |
| By David Evans | Thursday, September 8th 2011, 08:53 GMT |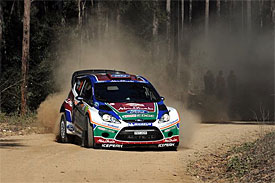 Malcolm Wilson has targeted victory on each of the four remaining rounds of this year's World Rally Championship as the Briton aims to get the Ford team's season back on track.
Despite not having won since the opening round of this year's series, Wilson says the performance of the Fiesta RS WRC shows the car is more competitive against the Citroen than ever.
Ford's Jari-Matti Latvala made the best possible start to Rally Australia, with the fastest time at this morning's shakedown stage, ahead of the New South Wales event.
"It's very frustrating," said Wilson, "to have a car which is this competitive and not be winning - this is how the whole team, including the drivers feel. I honestly think the car is more competitive than it's ever been.
"Certainly on tarmac, we're more competitive than we have been since 2004, when Markko Martin won twice in the Focus. I'm confident we've got the pace and we've got the guys who can do the job and win us all the remaining rounds of the championship."
Ford needs to keep the official Citroens out of the top two places in Australia if it is to prolong the manufacturers' race by another round.
Wilson added that finding the reason for the Fiesta's win drought was not easy.
"If we were losing rallies by 20 or 30 seconds," he added, "you could look here and there and find that this happened here or that happened on that stage and cost us the time, but we're talking about the closest finishes in the history of the sport – we're talking about 0.2 seconds and 2.4-second gaps here.
"If those results had gone the other way, we would have been looking at a different championship and a different situation. But, we're not and we have to get on with it. At this level, everything has to be 100 per cent."