Pietro Fantin beats Carlin drivers to pole for Rockingham British Formula 3 races
| | |
| --- | --- |
| By Ben Anderson | Saturday, September 3rd 2011, 10:37 GMT |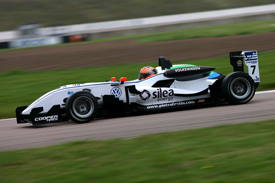 Pietro Fantin stole a march on fellow Brazilian Felipe Nasr by beating him to pole position in qualifying for this weekend's British Formula 3 round at Rockingham.
As in free practice, the Hitech Racing driver prevented a Carlin clean sweep of the top six positions and edged championship leader Nasr to the fastest time by just under two tenths of a second.
Having claimed pole for Sunday's feature race with his 1m11.794s best, Fantin was the only driver to manage a second best time below the 1m12s mark, which means he will also start Saturday's opening race from the front of the grid.
Kevin Magnussen and practice pace-setter Jazeman Jaafar were next, while rookie Jack Harvey outpaced his more experienced Carlin team-mates Rupert Svendsen-Cook and Carlos Huertas to claim the fifth fastest time around the 1.94-mile circuit.
Svendsen-Cook was only sixth fastest overall, but an ultra-consistent run means he will start fourth for race one on account of his second best time, ahead of Jaafar and Harvey.
Formula Renault graduate Harry Tincknell was the fastest Mercedes-powewed runner in eighth, just half a tenth ahead of his Fortec team-mate Will Buller.
Sino Vision's series veteran Hywel Lloyd pipped Double R's Scott Pye to complete the overall top 10, although reigning British Formula Ford champion Pye set a second best time good enough to give him the final spot in the top 10 on the race one grid.
Less than 1.5 seconds covered the top 17 runners in the 20-car field.
Race one grid:

Pos  Driver                Team/Car                  Time       Gap
 1.  Pietro Fantin         Hitech Dallara-VW         1m11.895s
 2.  Felipe Nasr           Carlin Dallara-VW         1m12.075s  + 0.180s
 3.  Kevin Magnussen       Carlin Dallara-VW         1m12.123s  + 0.228s
 4.  Rupert Svendsen-Cook  Carlin Dallara-VW         1m12.272s  + 0.377s
 5.  Jazeman Jaafar        Carlin Dallara-VW         1m12.301s  + 0.406s
 6.  Jack Harvey           Carlin Dallara-VW         1m12.527s  + 0.632s
 7.  Carlos Huertas        Carlin Dallara-VW         1m12.534s  + 0.639s
 8.  Harry Tincknell       Fortec Dallara-Merc       1m12.657s  + 0.762s
 9.  William Buller        Fortec Dallara-Merc       1m12.736s  + 0.841s
10.  Scott Pye             Double R Dallara-Merc     1m12.849s  + 0.954s
11.  Menasheh Idafar       T-Sport Dallara-VW        1m12.854s  + 0.959s
12.  Hywel Lloyd           Sino Vision Dallara-Merc  1m12.880s  + 0.985s
13.  Pipo Derani           Double R Dallara-Merc     1m12.896s  + 1.001s
14.  Fahmi Ilyas           Fortec Dallara-Merc       1m13.030s  + 1.135s
15.  Adderly Fong          Sino Vision Dallara-Merc  1m13.354s  + 1.459s
16.  Lucas Foresti         Fortec Dallara-Merc       1m13.361s  + 1.466s
17.  Bart Hylkema          T-Sport Dallara-VW        1m13.422s  + 1.527s
18.  Yann Cunha            T-Sport Dallara-VW        1m13.519s  + 1.624s
19.  Kotaro Sakurai        Hitech Dallara-Mugen      1m14.944s  + 3.049s
20.  Luca Orlandi          West-Tec Dallara-Mugen    1m17.031s  + 5.136s

Race three grid:

Pos  Driver                Team/Car                  Time       Gap
 1.  Pietro Fantin         Hitech Dallara-VW         1m11.794s
 2.  Felipe Nasr           Carlin Dallara-VW         1m11.974s  + 0.180s
 3.  Kevin Magnussen       Carlin Dallara-VW         1m12.078s  + 0.284s
 4.  Jazeman Jaafar        Carlin Dallara-VW         1m12.173s  + 0.379s
 5.  Jack Harvey           Carlin Dallara-VW         1m12.204s  + 0.410s
 6.  Rupert Svendsen-Cook  Carlin Dallara-VW         1m12.224s  + 0.430s
 7.  Carlos Huertas        Carlin Dallara-VW         1m12.391s  + 0.597s
 8.  Harry Tincknell       Fortec Dallara-Merc       1m12.473s  + 0.679s
 9.  William Buller        Fortec Dallara-Merc       1m12.523s  + 0.729s
10.  Hywel Lloyd           Sino Vision Dallara-Merc  1m12.758s  + 0.964s
11.  Scott Pye             Double R Dallara-Merc     1m12.764s  + 0.970s
12.  Menasheh Idafar       T-Sport Dallara-VW        1m12.830s  + 1.036s
13.  Pipo Derani           Double R Dallara-Merc     1m12.873s  + 1.079s
14.  Fahmi Ilyas           Fortec Dallara-Merc       1m12.952s  + 1.158s
15.  Bart Hylkema          T-Sport Dallara-VW        1m13.153s  + 1.359s
16.  Lucas Foresti         Fortec Dallara-Merc       1m13.245s  + 1.451s
17.  Adderly Fong          Sino Vision Dallara-Merc  1m13.279s  + 1.485s
18.  Yann Cunha            T-Sport Dallara-VW        1m13.420s  + 1.626s
19.  Kotaro Sakurai        Hitech Dallara-Mugen      1m14.803s  + 3.009s
20.  Luca Orlandi          West-Tec Dallara-Mugen    1m16.256s  + 4.462s

Race one grid - Second-fastest qualifying times
Race two grid - Race one result with top eight reversed
Race three grid - Fastest qualifying times